Brisbane World War II Veteran Flown to Australian War Memorial For 100th Birthday
24 February 2023
World War II veteran, Jim Grebert, reached a special milestone on Sunday 12 February, celebrating his 100th birthday.
Jim, one of the newest, and the oldest member of the Sandgate RSL Sub Branch, celebrated the special day over lunch at the Sandgate Post Office Hotel with a gathering of his family and friends.

Following the personal celebration, RSL Queensland's Brisbane North District organised a trip to ensure Jim, a deserving and humble veteran, was honoured with fitting celebrations in Canberra.

Jim was flown to Canberra to attend a celebratory event where RSL Australia presented his 100th Year Certificate, followed by a visit to the Australian War Memorial.

RSL Brisbane North District President Merv Brown OAM congratulated Jim and said the Distict and his local Sub Branch had welcomed the opportunity to celebrate the veteran's impressive milestone in keeping with the League's ethos of care, commemoration and camaraderie.

"It was wonderful to see Jim recognised for his unwavering commitment to his country and community at the Australian War Memorial's Last Post Ceremony," Mr Brown said.

"It was appropriate that Jim's long life and selfless service was acknowledged in the nation's capital at the memorial which includes, in its Roll of Honour, the names of those who Jim fought alongside during World War II."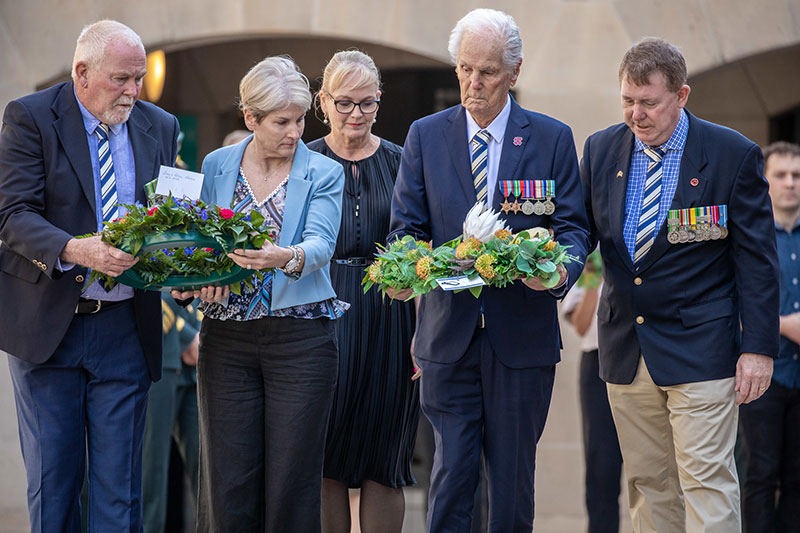 Image: Australian War Memorial. Jim Grebert laying a wreath at the Last Post Ceremony.
Jim travelled with his granddaughter and a small contingent from the Sandgate RSL Sub Branch, including the Sub Branch's President Colonel Paddy Evans.

While he has been a devout member of the RSL periodically since World War II, Jim joined the Sandgate RSL Sub Branch following his move from the Gold Coast, and has since become an active member, finding mateship and support.
For Jim, the secret to living a long life is to "keep breathing and enjoy the odd beer".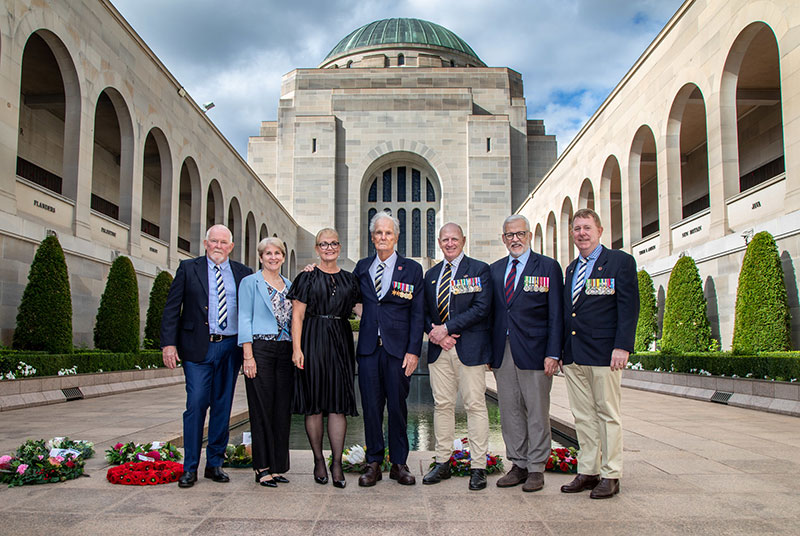 Image: Australian War Memorial. Jim Grebert laying a wreath at the Last Post Ceremony.
In saying that, Jim has always remained fit and healthy and to this day takes a daily walk. He also credits his longevity to growing up with good clean air in Millaa Millaa on the Atherton Tablelands, healthy eating and hard work.


About Jim's war service
Born in Atherton, Queensland, Jim enlisted with the Australian Army at age 20 on 21 July, 1943. He trained in Dubbo, West Maitland and Canungra. He would be discharged just over three years later on 20 August 1946. During the Second World War, Jim served with the 58th/59th Infantry Battalion Australian Imperial Forces in New Guinea and Bougainville.

A memory of war that has stayed with Jim was while he was fighting from a trench in New Guinea, he and some of his platoon members took a hit from mortar fire, burying them for an unknown amount of time.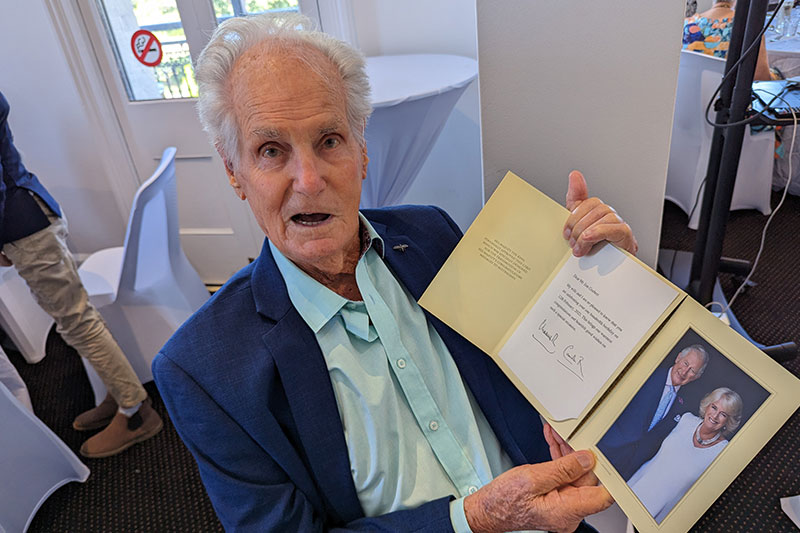 Jim Grebert and a congratulatory birthday message from Their Majesties The King and Queen Consort.
The hit had also sent all their property up into the tops of trees. Other memories include seeing a volcano belching smoke and lava – a sight he had marveled at during a break on patrol. He also recalls finding scorpions, as large as crabs, in the pockets of his trousers.

Jim's collection of war medals consist of the 1939-45 STAR, Pacific Star (PNG), War Medal 1939-45, Australian Service Medal 1939-45 and the Australian Service Medal 1945-1975 with clasp PNG.
Want to stay informed? Subscribe today and get the latest news, services, events and more direct to your email inbox.
Tags:
Veteran stories

Media release