Veteran advocate honoured with OAM
07 March 2023
"I'm quite overwhelmed – you just don't do these things for the awards." – Veteran advocate Sue McCallum.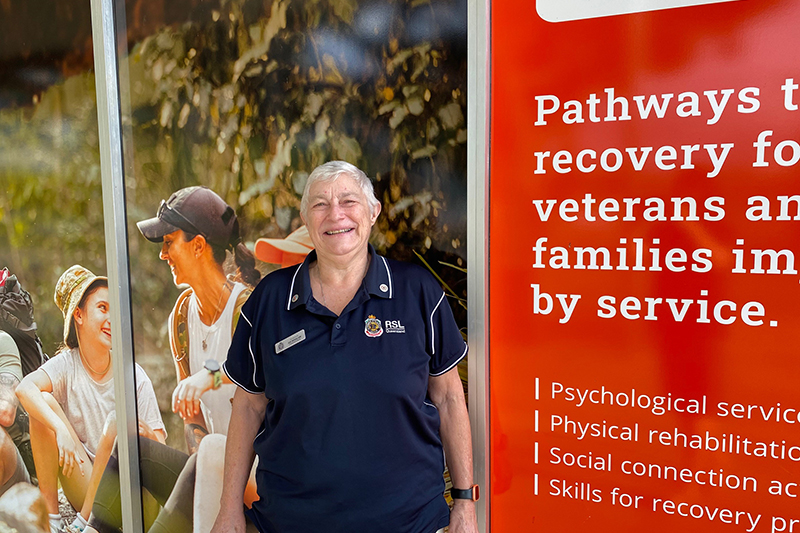 Sue McCallum has been helping veterans and their families for decades
The new year had scarcely dawned when RSL Queensland Compensation Advocate Sue McCallum received the call.
The nominations had been considered, the committee had ruled, and Sue had been named an OAM recipient for services to veterans – a remarkable honour that was officially unveiled in the Australia Day Honours List.
For the hard-working Darwin local, who's spent years volunteering and working to better the lives of ex-serving members of the Defence family, that call was almost surreal.
"I had an inkling something was coming. I'd had a couple of people asking me in-depth questions over the past year about my work and even my education and youth. And when I'd ask them why, they basically told me it was none of my business," says Sue with a laugh.
"But there was still a part of me that didn't believe it until I got that call.
"I was quite overwhelmed really because you don't do these things for the recognition.
"And I feel like I've only done what I could do - but I fear I always could have done more.
"So, to be nominated, let alone win, is very humbling."
While the award came as a shock to Sue, it scarcely raised an eyebrow among her friends, colleagues and the wider veteran community who have witnessed her endless care, compassion and hard yakka over the past few decades.
"Sue's dedication to the veteran community is second to none. She goes about her business without fanfare, but she thoroughly deserves recognition," says teammate Rebecca Floyd, who also works as an RSL Queensland Compensation Advocate up in the Mates4Mates Veteran and Family Recovery Centre in Darwin.
"She has a fantastic reputation in the Northern Territory and local doctors and external Ex-Service Organisations will all say if you need help, see Sue because she is fantastic.
"Sue has an enormous amount of well-earned respect for her compassion and knowledge, and it's an absolute privilege to work alongside her. She's an asset for RSL Queensland and the veteran community is at the heart of everything Sue does."
RSL Queensland's General Manager Service Delivery, Graeme Alley, couldn't agree more.
"For those who don't know, this is a massive, massive achievement.
"Sue has been supporting veterans since at least the 1970s through a range of different organisations … and she also sits on the board of some prominent government boards that support veterans in the Northern Territory," says Graeme.
"So well done Sue! We are honoured to have you working as part of our team. And I also want to say thank you for all the help and support you've given veterans throughout that period. I can only imagine how many vets you've supported and how many vets have you to thank for where they are now."
As to why the beloved OAM recipient clocked the incredible gong, the reasons (as you can imagine) are many.
Sue's been the Secretary and Treasurer of Veterans Australia, NT since 2016, a Level 2 Compensation and Wellbeing Military Advocate and Team Leader/ Case Manager for the Defence Veterans Advocacy since 2018 and a Life Member of the NT branch Vietnam Veterans Association of Australia since 1999.
Since 2018, Sue's been the Advocacy Training and Development Program (ATDP) Regional Implementation Group 1 (Queensland and Northern Territory) representative, and from 1999 to 2015, Sue was the Editor of the quarterly newsletter Footprint.
She's a life member of the Northern Territory Veterans' Affairs Ministerial Advisory Council and an advocate and team member of Operation 'Bring Them Home' – an initiative of the Vietnam Veterans Association of Australia - NT branch – that sought to return the remains of 25 Aussie soldiers killed in the Vietnam War.
Sue was also a member of the Women's Royal Australian Naval Service (WRANS) from 1970 to 1973 and in her current role as an RSL Queensland Compensation Advocate, she works tirelessly with veterans to deliver life-saving compensation payouts and support for those who need it most.
Want to stay informed? Subscribe today and get the latest news, services, events and more direct to your email inbox.