Searing pain in El Alamein for one of the Rats of Tobruk
20 August 2020
Donald Simpson served on the dusty battlefields of the Middle East during WWII, until he was struck down by an enemy bullet.
The year was 1940, and World War II was raging across the globe. Adolf Hitler and the Axis forces were cutting a devastating path through the European mainland. News reports of the Allies' worsening position were filtering back to Australia.
Donald "Don" Leonard Simpson, then a 23-year-old living in Melbourne, felt a sense of duty.
"I thought it was about time I did something to help. The outlook for the Allies wasn't looking too good, so I decided then that I would join up," recalls Don, now 101 years old.
Little did he know that decision would soon earn him the title of one of the famed Rats of Tobruk.
For Don, it wasn't just a sense of duty to Australia that inspired him to join the war effort. Don was born in Stoke Newington, London, on 22 December 1918. At the age of three he emigrated with his family to Melbourne to start a new life.
So, when Don walked into Melbourne Town Hall in 1940 to enlist, he was doing so to serve two homelands. After enlisting, he underwent basic training at various locations across Victoria, including Caulfield Racecourse, before it came time to leave Australian shores. The battlefields of the Middle East awaited.
Stopping Hitler
Don and his fellow Australian troops set off from Australia on the RMS Queen Mary as part of a five-ship convoy. Though the threat of enemy submarines and ships was ever-present, Don says the journey was uneventful.
After disembarking in the Middle East, Don and the 2nd 32nd Battalion set up camp in Palestine, before they were shipped out to the dusty battlefields of Tobruk, Libya and soon became part of Australian folklore. The fighting was fierce and unrelenting.
"We were completely surrounded and completely cut off," says Don.
"The only contact we had was with the Navy support, who delivered food, petrol and oil, but only at night-time because of the bombing.
"We were always hungry. They would send us what they could, but we never got a decent meal. It was basically bully beef and biscuits, and we occasionally got a hot meal. But that's just the way it was. That's the trials and tribulations of war. We made the most of what we had."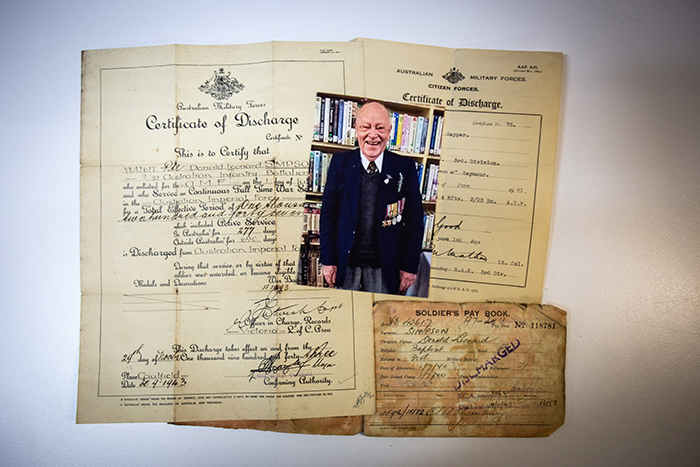 Amidst the fighting, Australian troops earned the nickname 'The Rats of Tobruk' for their use of Tobruk's excellent network of below-ground defensive positions, which had been built by the Italians before the war.
German propagandists described the besieged Australians as living like rats in the underground dug-outs and caves. In true larrikin style, the Aussie troops reclaimed the name as a badge of pride and even minted their own unofficial medals bearing the likeness of a rat.
Don says the Rats of Tobruk initially focused on defending their lines against German Erwin Rommel's Afrika Korps, who until that point had never been defeated. As they bedded in, the Aussie troops became bolder, and defensive operations gave way to patrols and reconnaissance. But after months of fighting, the Australians were exhausted and their health was suffering. Australian casualties numbered at least 3,000, including 746 killed.
Don was among the troops relieved by Allied forces late in 1941. After a brief time spent supporting Allied forces in the Syria-Lebanon campaign, he was sent to El Alamein. It was here, on the Egyptian shoreline of the Mediterranean Sea, that Don's time on the battlefield came to an abrupt and painful conclusion.
Red-hot poker
In one of the countless skirmishes of the Battle of El Alamein, Don was positioned on a forward slope and was about to retreat behind a ridge when he was struck by an enemy bullet. Although almost 78 years ago, he still remembers the searing pain as the burning piece of metal entered his upper thigh, slicing through his sciatic nerve.
"Because it severed the nerve, all the pain ended up in my foot. It felt like a red-hot poker in the middle of my foot. It was a very strange situation," he says.
Don was rescued by a lieutenant and a sergeant, who picked him up and transported him to a nearby field hospital, where he underwent surgery and received a skin graft on the wound.
"I lost the use of my muscles that helped lift and bend my toes. The doctors would use hatpins and draw patterns on my leg to find the live and dead bits. Luckily though, the pain gradually got less and less, and I don't have any pain in it anymore."
Though he recovered well, the injury was the end of Don's campaign. He was eventually transported back to Australia on a hospital ship, and spent several months recuperating in a Melbourne hospital before he was sent home. Don was officially discharged from the Army in 1943.
Bittersweet relief
By the time the war ended in August 1945, Don had fully recovered and was working as a painter, decorator and sign writer.
When the news came through that Japan had surrendered, Don says it was a moment of relief and jubilation.
"There was dancing in the street and everyone was prancing around congratulating each other. It resulted in a massive street celebration.
"It was a wonderful feeling to know it was all over and done with. But there was also some sadness because there was a lot of sacrifice and pain too," he says.
As he reflects on the 75th anniversary of Victory in the Pacific, Don is hopeful the world never experiences anything like WWII again.
"It was really unnecessary in so many ways, but it's just one of those things. Hitler had to be stopped," he says.
"It was a terrible business, whichever side you were on."
Tags:
Veteran stories

History & commemoration