Veteran photography exhibition launches in Brisbane and Townsville
03 October 2023
Media release

Veteran stories

ANZACspirit
The Point and Shoot Veteran Photography Exhibition will visit both cities in October.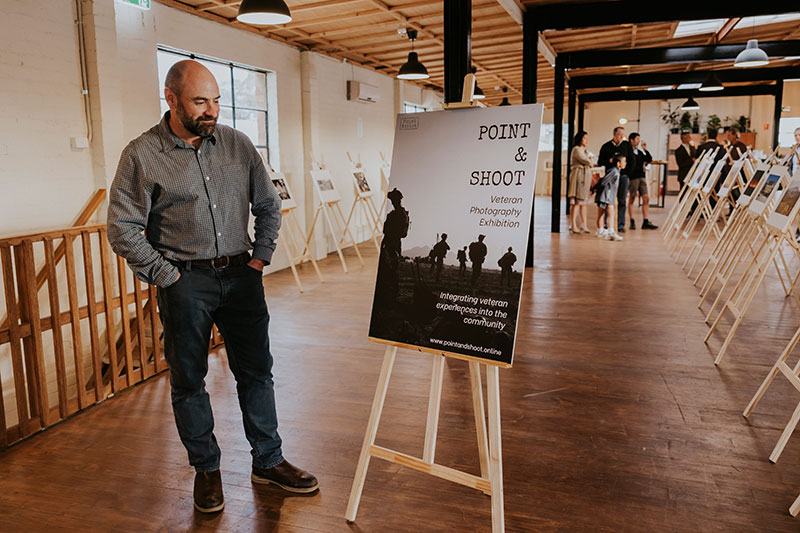 Mark Direen is a combat veteran and the Founder of Point Assist
Supported by RSL Queensland, the exhibition unearths untold stories of Australian veterans. Providing a glimpse into the unique experiences of current and former-serving Australian Defence Force (ADF) personnel, it will showcase important stories that may have otherwise been left untold.
Since the initiative's inception in 2020, hundreds of eye-opening photographs have been submitted, sharing pivotal moments from the perspective of Defence personnel deployed in wars, conflicts and peacekeeping operations.
Point Assist Founder and veteran Mark Direen said this project was so much more than just an exhibition, and that its core focus was on bringing the viewer behind the lens to provide a raw and unfiltered perspective on military experiences.
"The catalyst for this project stems back to my time as a combat soldier, operating in remote and high-threat environments that were physically and mentally demanding," Mr Direen said.
"For me, the stillness and meaning that came from capturing both the ordinary and extraordinary experiences was a powerful way to not only document, but also reflect upon my time in service.
"Now, this October, we're bringing the exhibition to Queensland for the first time and are looking forward to showcasing the profoundly impactful images submitted."
RSL Queensland State President Major General Stephen Day DSC AM said RSL Queensland was proud to champion this initiative and encouraged the community to attend the exhibition.
"This Queensland-first exhibition is a unique way to bring military history to life and commemorate a range of modern conflicts, peace-keeping operations and service," MAJGEN Day said.
"We know that storytelling paves the way to greater understanding, recognition, and appreciation – and this exhibition provides an avenue for Defence personnel to tell their story and share their experience in the ADF with the broader community.
"Over the past few years, we've seen this exhibition bring veterans together through shared storytelling and we look forward to sharing this with the Queensland community."
The exhibition is showing at Vacant Assembly in Brisbane's West End from Friday 13 to Sunday 15 October, and at Jezzine Barracks Military Museum in Townsville from Friday 20 to Sunday 22 October.
For more information on the exhibition, visit www.pointandshoot.online.
Want to stay informed? Subscribe today and get the latest news, services, events and more direct to your email inbox.