Piping for purpose
12 October 2023
Pipe Major John Ferguson retraces his music and military career, from performing for royalty to starting Townsville's Veterans and Families Pipe Band.
Originally from Bradford, England, Townsville RSL Sub Branch member John Ferguson started playing the bagpipes as a child, after years of pestering his parents for lessons. Years later, his piping opened the door to a lifelong career.
Growing up in the Scots Guard
John playing the bagpipes during a Dawn Service for Vietnam Veterans' Day (image courtesy of Defence Australia)
"I grew up on the estates of Bradford, where there was a lot of gang activity and unemployment. For me, the only way out of the rat race was to join the Army," John explains.
"I had been learning the bagpipes in school, and one day noticed that Amazing Grace had been released by the Scots Guard and Pipe Major, Angus McDonald. It got me thinking that I could be a soldier and do my hobby at the same time."
John enlisted in the British Army before his 16th birthday. After completing basic and advanced training, he joined the 1st Battalion Scots Guard Pipes and Drums and conducted piping courses at the School of Army Bagpiping at Edinburgh Castle.
There are many places and faces that stand out over his 11 years in the Battalion.
"I went all over the world on piping and drumming trips: the Isle of Man, the Channel Islands, France, Italy, Japan, South Korea, the Philippines, Thailand, Australia. In 1984, we even won the Piping World Championships in Glasgow," John recalls.
"I piped for Queen Elizabeth II, His Royal Highness the Duke of Edinburgh, Lady Diana, the Queen Mother, and Prime Minister Margaret Thatcher. Prince (now King) Charles was the reviewing officer at my passing parade from the Guard's Depot."
Piping in Australia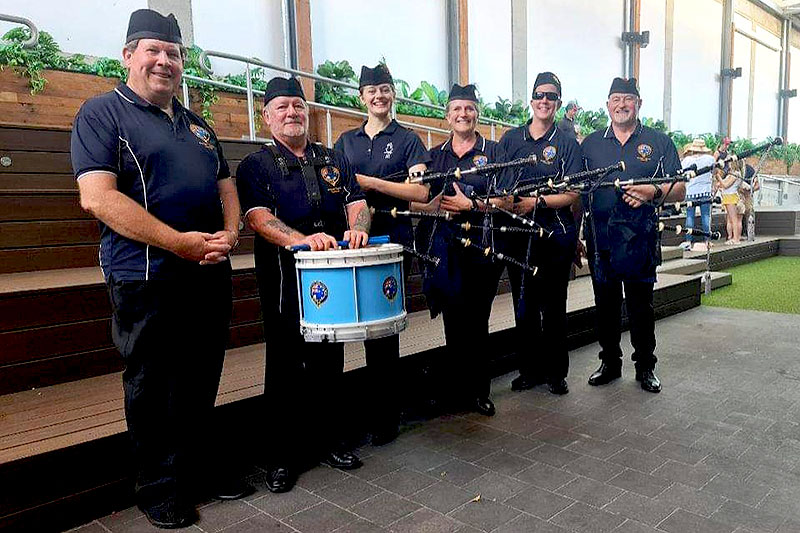 After moving to Townsville, John founded the Veterans and Families Pipe Band
In 1987, John left the British Army to move to Australia. He was promptly recruited to the Australian Army's 3RAR and worked his way up from Private to Senior Warrant Officer.
"My original plan when I came to Australia was to serve four years if I got accepted as a resident, but I ended up liking the Army and the people in it so much that I just couldn't leave!" John chuckles.
Almost 35 years later, John continues to serve in the Australian Army as a Reservist. He has piped the entire time for various events and bands, and even worked for the Defence Force School of Music as the Senior Instructor of Piping and Drumming.
John eventually settled in Townsville and joined Townsville RSL Sub Branch. He started playing for the RSL Pipe Band, which gave him an idea that would lead to a bold chapter in his career.
The Veterans and Families Pipe Band
Using skills honed from a lifetime of music and military, John has established a new competition-focused pipe band in Townsville.
"I personally believe that all veteran families are as much a veteran as the person enlisted. I started the Veterans and Families Pipe Band because I have a unique perspective as both a veteran and a family member from when my wife was deployed," John explains.
In just 18 months, the Veterans and Families Pipe Band has grown to a 12-member ensemble that is inclusive of different ages, genders, abilities and military service. They are currently preparing to play events around Townsville, Mackay and Cairns.
"We have an 11-year-old girl who is legally blind. We've got regular and retired soldiers. We've even got a retired padre from the Australian Army," John says.
"There is a good sense of belonging in the group. As soon as someone joins, we can talk about the old times, the new times, or we don't have to talk about anything; we can just learn the bagpipes and drums together."
As the band grows and improves with every practice session, John has developed big dreams for the ensemble.
"We're not always going to win competitions, but getting comments from judges and other pipe bands helps us get to the next step," John says.
"To stand together one day in front of 12,000 people at the Edinburgh Military Tattoo – that's what I'm aiming for."
Interested in finding out more or joining the Veterans and Families Pipe Band? Visit theoasistownsville.org.au or contact Pipe Major John Ferguson on 0449 116 651.
Want to stay informed? Subscribe today and get the latest news, services, events and more direct to your email inbox.