Making Christmas merrier for 600 veterans and their families
16 December 2022
Hundreds of deserving veterans received a special Christmas surprise thanks to RSL Queensland's 2022 hamper drive.
'Twas the month before Christmas … and all hands were on deck, packing and sending festive cheer to veterans who needed and deserved it most.
An army of RSL Queensland staff and volunteers rallied together for the 2022 Christmas hamper drive, which saw more than 600 hampers hand-packed and delivered to veterans either doing it tough or doing outstanding work in their community.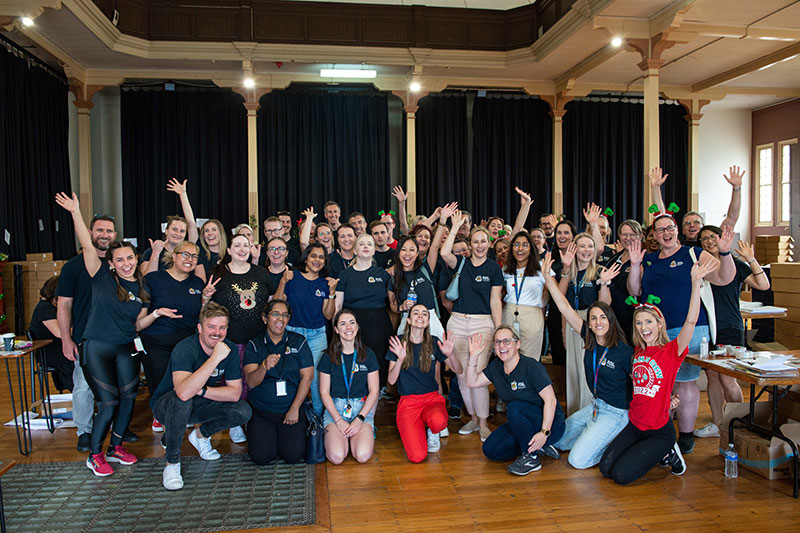 The RSL Queensland team was happy to help spread Christmas cheer
Districts and Sub Branches nominated hundreds of deserving recipients, which included veterans who'd recently lost partners or were experiencing social isolation, health issues, financial hardship, or homelessness.
"We looked at who's done it tough this year, who could do with a little bit of cheering up, but also who's done outstanding service," Moreton District Secretary Catherine Akers explains.
Each hamper was tailored for its recipient's needs – filled with tasty treats, handmade gifts and other locally sourced Christmas goodies, plus a handwritten card and a $100 supermarket voucher to put towards a special Christmas meal.
"It just makes that time of the year – which can be a bit troubling if you're not doing well – something special," Catherine says.
Spreading the joy further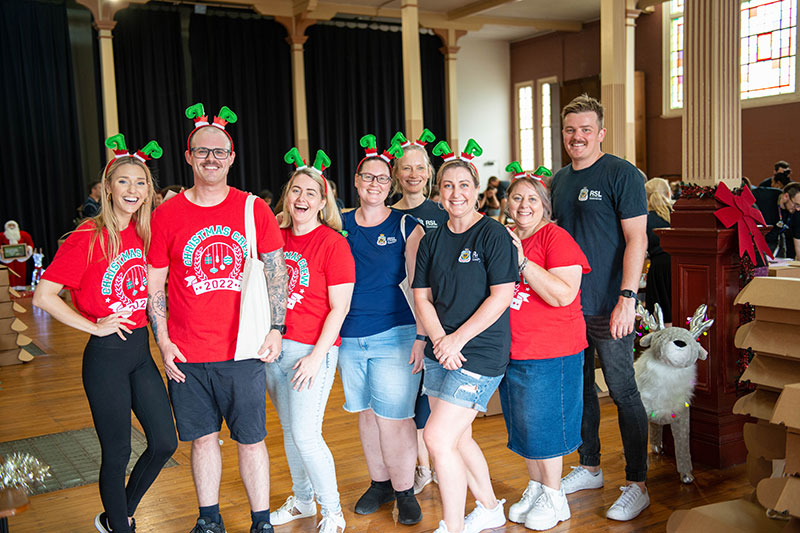 The Christmas hamper drive was a team effort
The hamper idea first sparked in 2020 with hopes to brighten what had been a very difficult year for many.
"As we came out of COVID, we recognised that a lot of people were suffering from social isolation," RSL Queensland CEO Rob Skoda says.
"So, we banded together at the end of that year and delivered 250 hampers to veterans and their families across Queensland."
That effort was increased to more than 500 hampers in 2021 and more than 600 hampers in 2022, when the giftee list expanded to include veterans in Tasmania and the Northern Territory.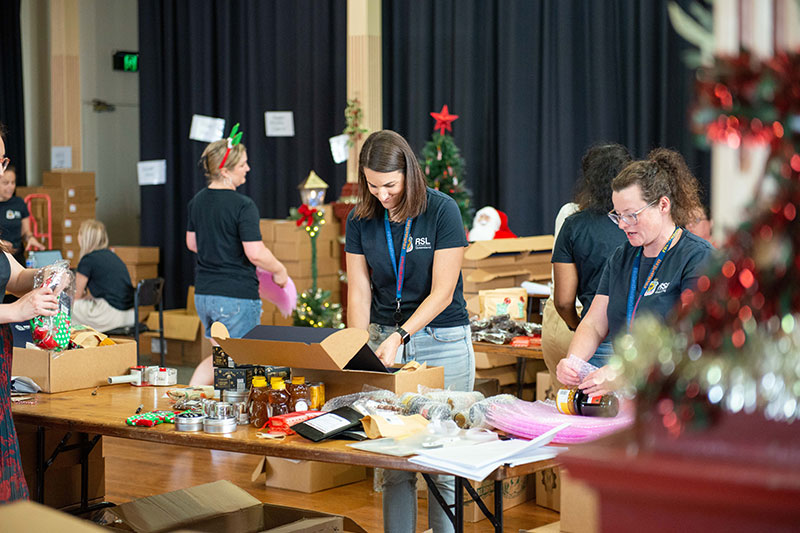 "It's something that we've seen is so beneficial for the emotional wellbeing of people that we just want to see it continue happening," Rob says.
It's not just the recipients who've benefited, either. Many hamper supplies were sourced from veteran-owned businesses – including A Touch of Sage candles, Australian Warfighters Coffee, Beef Chief jerky, Made by Matt woodware, and Tegere outdoor gear – and Rob hopes to involve more in both supply and distribution.
"I'd love to see us connect a large portion of the veteran community who can work with us to contribute to and deliver these hampers, but also grow that reach across Queensland to make sure veterans and their families, wherever they are, may appreciate this goodwill gesture."
Much more than a gift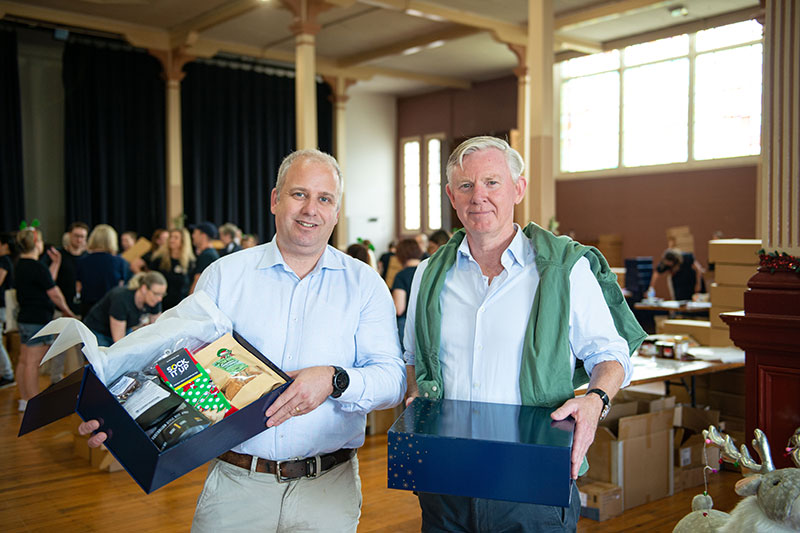 RSL Queensland CEO Rob Skoda and State President Major General Stephen Day DSC AM pitched in with packing the hampers
Compiling, packing, and distributing 600-plus hampers across three states was quite the logistical feat – one that started in March and involved more than 140 volunteers including a 30-strong planning committee, Board members, and staff from across RSL Queensland.
But as Catherine explains, the effort was more than worth it.
"I'm very fortunate that I get to see when the hampers are received. It's a magical moment. To see their reactions – they're very, very humbling," Catherine says.
"A lot of them, their first reaction is, 'Oh, my gosh, why am I getting this? Why am I being picked? Joe could have had that'. They're very touched."
Each hamper is "much more than just a gift", according to Rob.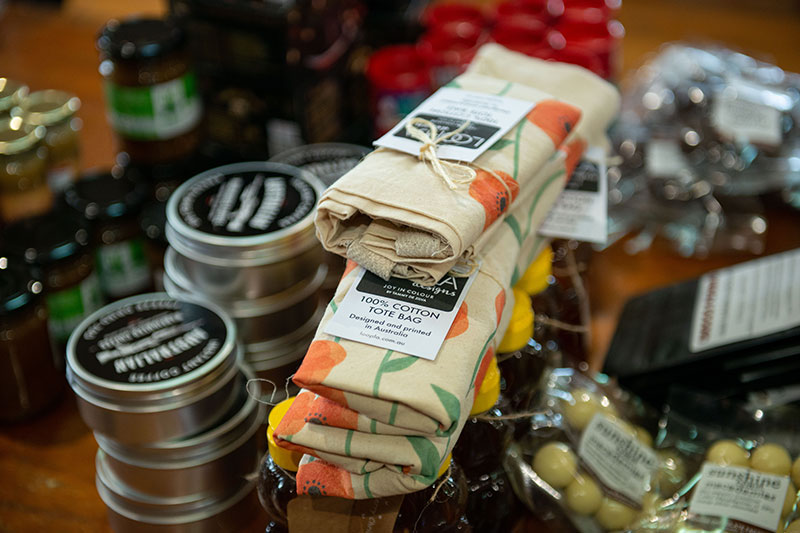 "It's a recognition that the recipient is part of a bigger community," he says.
"There's a lot of people that are living with social isolation or may have been suffering throughout the year. Receiving a hamper from RSL Queensland tells them there's people out there thinking about them, and that we're here for them.
"When we join the military, we join a community of like-minded people coming together to do something positive. It's important that that community can come together and look after our mates, which is something that's ingrained in the military psyche. It's something that's ingrained in RSL Queensland."
RSL QUEENSLAND THANKS THE FOLLOWING SUPPLIERS FOR CONTRIBUTING TO THE CHRISTMAS HAMPERS: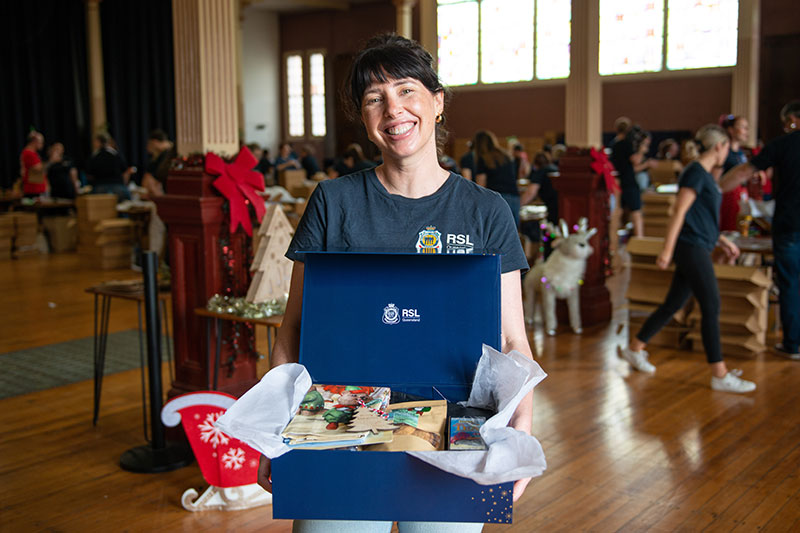 A Touch of Sage
Australian Warfighters Coffee
Bee Kind
Beef Chief
Bundaberg Ginger Beer
Bunny Chow Down
DC Laser Services
Hurley Burley Toys
Jamjo
Kuranda Cookies
Loopla
Made by Matt
Mr Fothergill's
Nerada Tea
Noosa Chocolate Factory
Officeworks
Pudding People
Real Christmas Trees
Sanity
Sock it Up
St John Ambulance
Tegere
Want to get involved?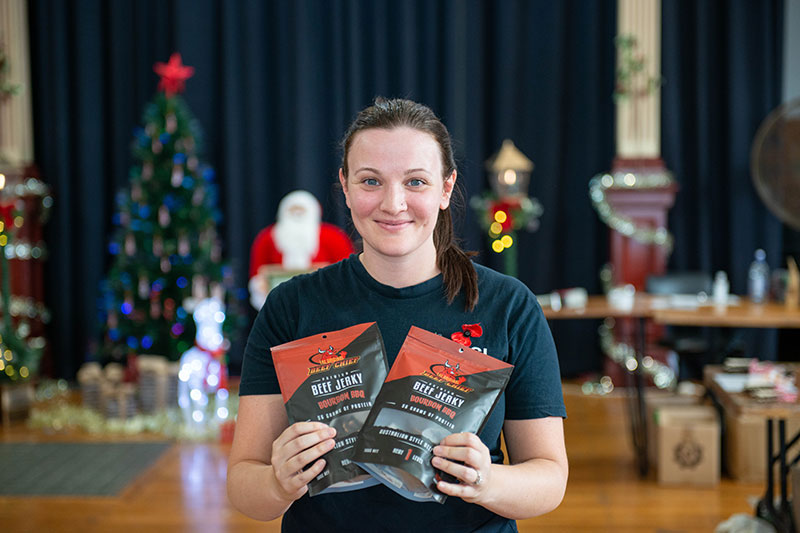 Are you a supplier or distributor who'd like to contribute to next year's hamper drive? Email hampers@rslqld.org to express your interest. Thanks!
Want to stay informed? Subscribe today and get the latest news, services, events and more direct to your email inbox.