Knitting a network of support for the veteran community
17 May 2023
"It is a permanent hug from someone who cares."
Thousands of volunteers sit at the heart of RSL Queensland, helping provide support to veterans and their families across the state. During National Volunteer Week, we say thank you and recognise the many wonderful people who generously invest their time, experience, and effort into our organisation.

For Malanda RSL Sub Branch member, and Operation Blankie co-ordinator, Margaret Plant, volunteering is at the heart of all she does.

"My work and volunteering has given me a purpose and changed my demeanour for the better – I'm challenging myself every day."

"Volunteering helps you socialise and boosts your mental health. It gives you a reason to get out of bed in the morning, knowing that you are doing something worthwhile to brighten another person's life."

Margaret began volunteering four years ago when she and fellow Sub Branch members Catie Shanahan and Pauline Lawrence first established Operation Blankie. The initiative will celebrate four years since its first meeting in May 2023.

Operation Blankie aims to comfort fellow veterans and their families in times of need, hardship and dark moments by providing them with packs of knitted and crocheted goods such as beanies, scarves, gloves and blankets.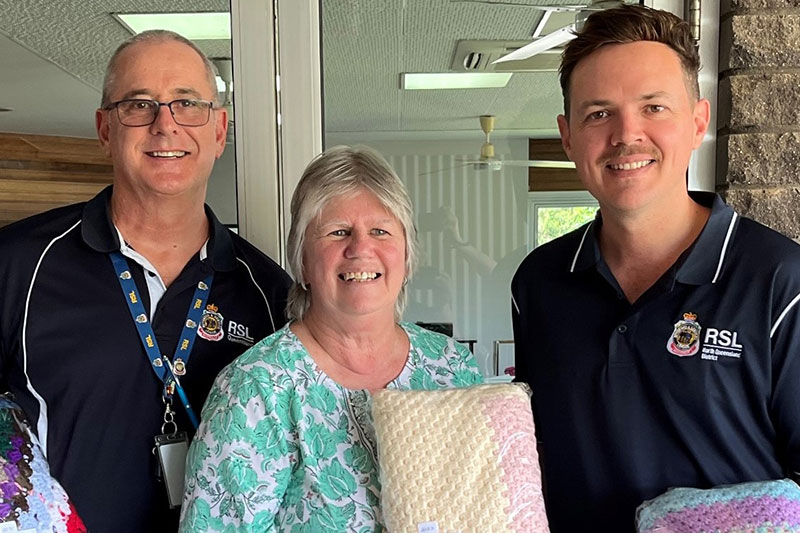 (Left to right) Peter Blackwell, Margaret Plant and Greg Ludlow
"We started Operation Blankie for a friend and brother to help keep him warm while in hospital and to comfort his loved ones. From that first rug made, it was not just Operation Blankie but blankie in operation."

"No day is quite the same for me. Whether it's meeting with the group for a coffee, ensuring our donated yarn and finished items are properly washed and prepared to the highest standard, or simply working through an admin day."

"The smiles and sometimes happy tears you get when veterans and families receive an item from us, that helps not just me, but all volunteers involved as we share these moments. It makes the time and love they put into every item worthwhile."

Margaret helps coordinate 43 volunteer knitters and crocheters from around the local area including the Atherton Tablelands, Innisfail, Gordonvale, Mission Beach and Townsville as well as working with volunteers in other states including New South Wales, South Australia and Tasmania.

Over the past four years, the Operation Blankie team have made 2,500 items consisting of rugs, beanies, scarves, mittens, shawls and twiddle mitts.

"We are a social group that highly value camaraderie. Initially we met once a month, but now we have started meeting up every week. Volunteering is about giving back to our veteran community and that means supporting our own team as well."

On Australia Day, Margaret's tireless dedication and contributions to the veteran community were recognised when she was awarded with the RSL Queensland Far Northern District Australia Day Medallion, one of only two medallions awarded in her District each year.

"For me, it's a very humbling experience but as I say to my team, there is no one person on a pedestal. When I accepted the award, I accepted it on behalf of the group."

"It's about a group of people – some veterans, some family members of veterans long passed – who get together every week and knit and crochet, making items for those who have served their country and need a boost."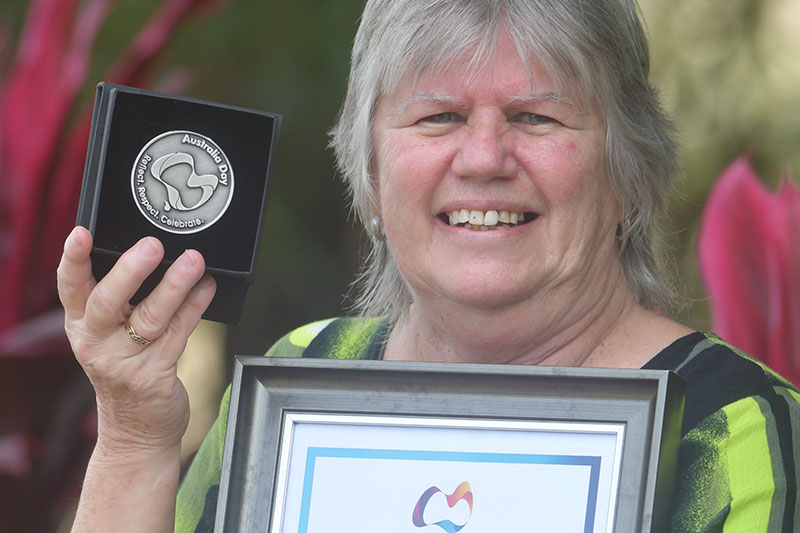 Image: The Express | Margaret Plant with her Australia Day medal
Margaret hopes that volunteering efforts continue to influence younger generations and encourage more people to give back to their local community to drive change and ensure volunteering is inclusive of all members of the community.

"As the song goes, from little things big things grow – that's how I started volunteering and that's how Operation Blankie started."

"For those thinking of volunteering there is always a place for everyone to get involved. No matter age, access or background go to your local Sub Branch and find a group that works for you."
LEARN MORE

National Volunteer Week shines a light on the ways volunteering brings us all together, builds community and achieves vital work across Australia. Find your local RSL Sub Branch and become a member of RSL Queensland, or learn about other volunteering opportunities at volunteeringqld.org.au.