Keeping history and community alive
05 January 2023
It may be small, but Pittsworth RSL Sub Branch is making a big impact by connecting and supporting the veteran and wider community, and preserving military history.
Strong links to Defence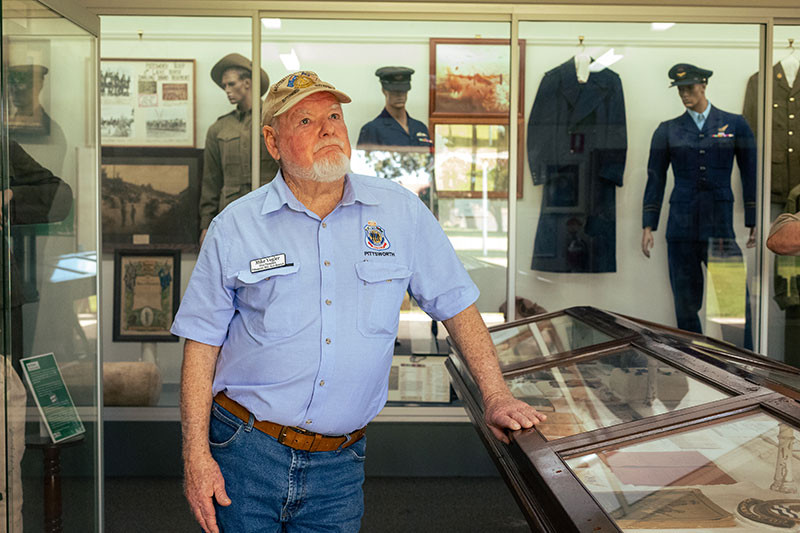 Pittsworth RSL Sub Branch Vice President/Secretary Mike Vogler
Home to around 3,000 people, Pittsworth has long held links to Defence. 19 ACU (Australian Cadet Unit) Pittsworth is based in town, and Leyburn Airfield and Oakey Army Aviation Centre – both built in the 1940s – lie 30 minutes away.
"There's so many people who have links to World War I, World War II, even Malaya, Malaysia and Vietnam," Pittsworth RSL Sub Branch Vice President/Secretary Mike Vogler says.
"There are a few younger veterans around, but they'll take time before they get back into society and then hopefully they'll come on board with us."
Somewhere to be with comrades
Allan Petersen is a former 'Nasho' and President of the Pittsworth RSL Sub Branch
Pittsworth RSL Sub Branch occupies the Soldiers Memorial School of Arts, built in 1930 to give soldiers "somewhere to go to be with their comrades".
"To me, that's what the RSL is about," Mike says. "And we still have that rapport with each other. Even though we're a small group, we come, we laugh, we do the serious things seriously. But we do have fun."
Mike joined the Army at 17, serving in Malaysia and touring Canada during his 12-year career. He went on to work in farming and aged care before retiring. "Now this is my life, this Sub Branch," he says.
For a long time, though, that was far from the case.
"When I left the Army, I was quite disillusioned. I took my family and went back to the land. I did 27 years without joining a Sub Branch; I did 20 years without marching on ANZAC Day.
"Then I had a call from a friend who said our battalion was being disbanded. I went to Brisbane, walked into the sergeant's mess. People came up to me and said, 'Where have you been? Have you been on holidays?' And I'd been out of the Army for 20 years.
"It just goes to show that that camaraderie is still there and that's what we try to foster within the Sub Branch."
Pittsworth RSL Sub Branch President Allan Petersen – an "ex Nasho" who served out of Wacol from 1970-73 – encourages uninvolved local veterans to find out what they're missing.
"Come along and see what we've got here. We've got a lot to offer," Allan says.
"Being a small organisation, a lot of people think that when they walk through the door, they'll get [given] a job, but that's not the case. We have a cup of tea or coffee, sit down, and have a good old yarn. That's what it's all about."
Pittsworth RSL Sub Branch gladly supports members in various other ways, whether it's sharing advice, engaging the nearest RSL Advocacy team, helping members reach specialist appointments (40km away in Toowoomba), or visiting members in aged care.
Strong community connections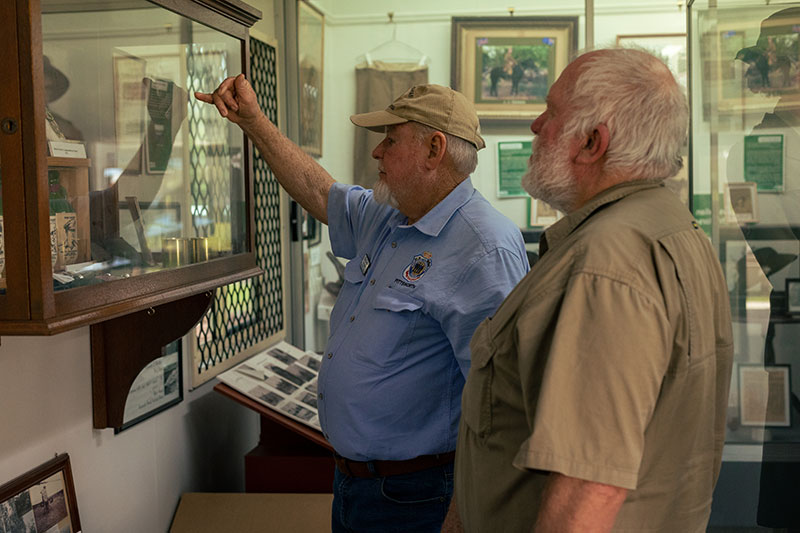 Many of Pittsworth's veterans are members of the Sub Branch
Thanks to Allan, Mike and other dedicated members, Pittsworth RSL Sub Branch maintains strong connections with the community. It has steadfastly supported Legacy for 60-odd years, and its ANZAC Day Dawn Service, gunfire breakfast and other events are well attended and received by locals.
Another popular Sub Branch initiative is to lay books in place of wreaths for ANZAC Day. "Organisations donate books, and we distribute them to where they'd like them to go – schools, aged care and that sort of thing," Mike explains.
"If you lay a wreath with fresh flowers, within three days it's finished. But a book is a memorial that lasts forever."
Preserving history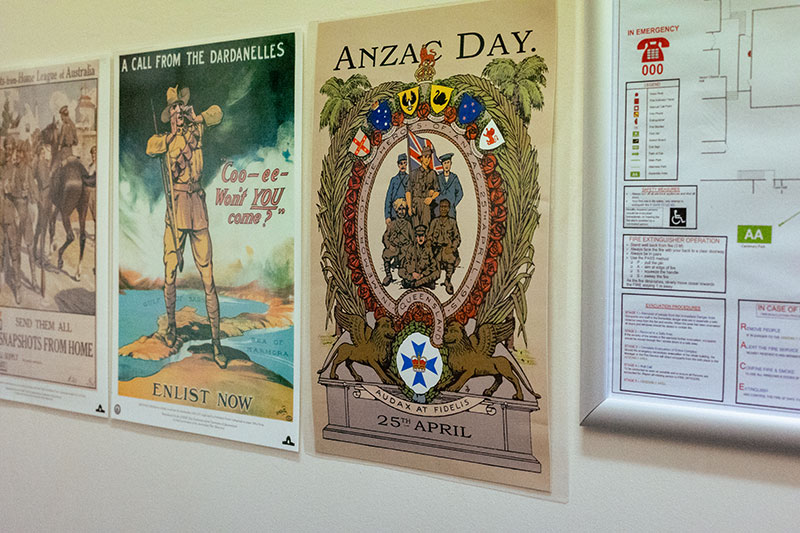 The Sub Branch boasts a large collection of memorabilia
Pittsworth RSL Sub Branch has worked hard to build another lasting legacy: a remarkable memorabilia collection – extending to Pittsworth Pioneer Historical Village – featuring medals, photos and even a restored 1944 Jeep that saw service in WWII.
"We've got a lot of stuff on display now," Allan says. "It's something that we can show our children, grandchildren, and great-grandchildren in the future."
The collection has helped showcase the Sub Branch and attract new visitors. "We'll have people walking through and we are always picking up somebody that's involved [in service], knows somebody that has served, or is a member of the RSL."
Reaping the rewards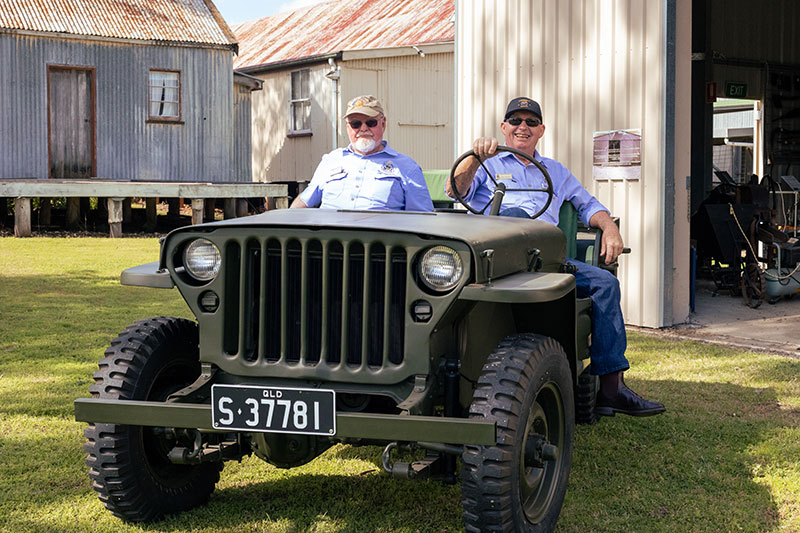 Mike and Allan in the WWII-era jeep
While it took Mike 27 years to join his Sub Branch, he's a central part of it now.
"What I find rewarding is the preservation of history and the camaraderie with other members. It doesn't matter where you served, what you did… we all get on well and joke and carry on as if we're still 18-year-olds."
Want to stay informed? Subscribe today and get the latest news, services, events and more direct to your email inbox.