Jitterbugging and kissing competitions
13 August 2020
The first VP Day was celebrated with jubilation as crowds filled the streets across Australia.
By the State Library of Queensland
On Saturday 15 August, Queenslanders will commemorate the 75th Anniversary of Victory in the Pacific—a day remembered for Japan's acceptance of the Allied demand for unconditional surrender, effectively putting an end to World War II.
On 15 August 1945, Australian Prime Minister Ben Chifley announced on radio that Japan had unconditionally surrendered to Allied forces. After three years of brutal fighting, the War in the Pacific was finally over.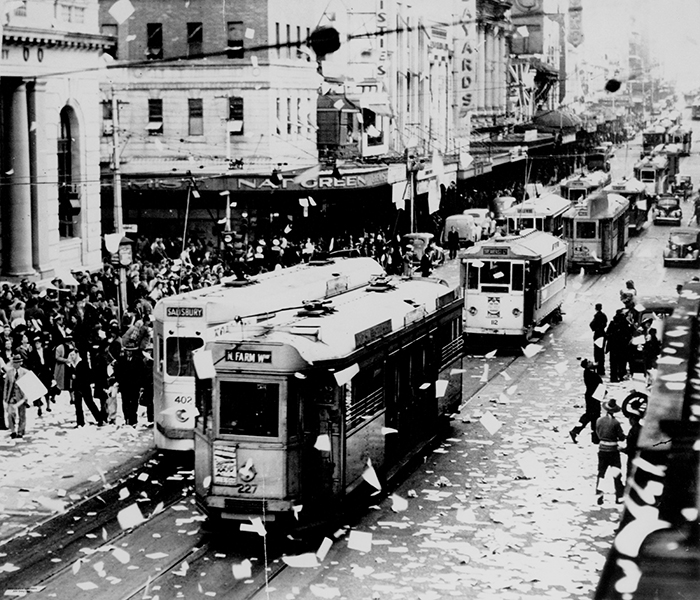 Peace celebrations on Queen Street, Brisbane in 1945.
A FUTURE FREE OF CONFLICT
The first VP Day was celebrated with jubilation as crowds filled streets in towns and cities across Australia to celebrate the much-anticipated end of the war as citizens looked towards a future free of conflict and fear of invasion. To manage celebrations, authorities closed pubs, as they had on VE Day.
However, this did not dissuade individuals from partying, with crowds gathering in streets and strangers dancing together, including in front of the Criterion Hotel in Brisbane and Anzac Square.
The Courier Mail reported that Brisbane was filled with frolicking, jitterbugging, ragtime bands, people banging pots, blowing whistles and firing flares, kissing competitions, soldiers playing two-up, and "pandemonium" reigned. There were "showers of confetti", and when the sun set, searchlights lit up the city, by which time Brisbane was "delirious on peace night".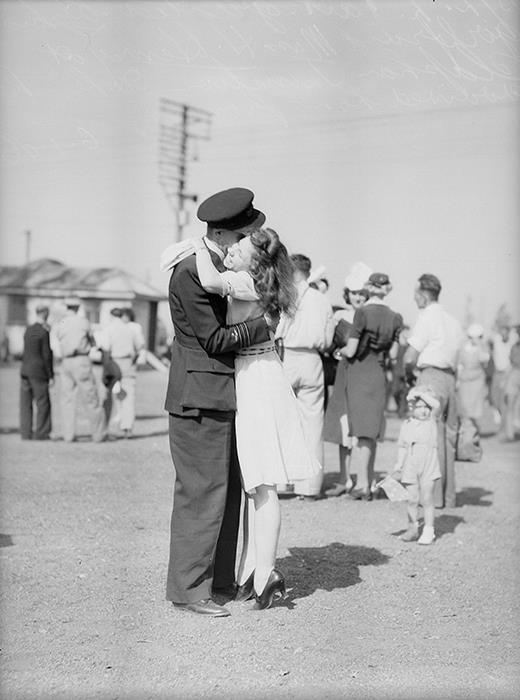 An airman embraces his girlfriend in 1946.
VISIT THE GALLERIES ON VP DAY
Today, VP Day remains an occasion to commemorate all those Australians who served and died in WWII, and especially those who served and fought in the War in the Pacific. This year, State Library of Queensland created a variety of resources to look back on the years of commemorations, cavalcades and camaraderie.
The Anzac Square Memorial Galleries, which are normally closed on a Saturday, will be open from 10am to 2pm this VP Day to accommodate those wishing to commemorate on site.
With a little help from voice assistants Amazon Alexa and Google Assistant, you can be transported back in time, to listen to the oral histories and diaries of past and present serving members of the Australian armed forces. These moving stories commence with letters and dairy extracts written around the end of the Second World War.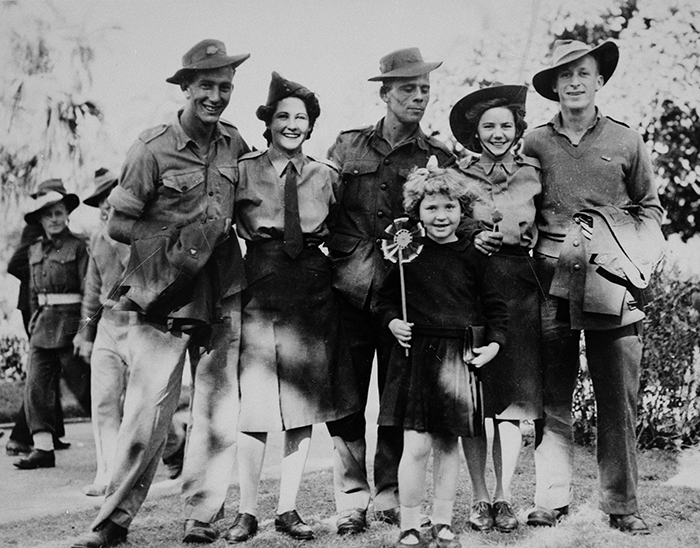 Group of soldiers, three men and two women, celebrating V.J. Day (Victory in Japan) in the Botanic Gardens, Brisbane, 1945.
GET A POPPY LAID FOR YOU
You can also use VP Day Stories to request a Poppy be laid at the Anzac Square Memorial Galleries on your behalf, play the Last Post and be guided through a minute's silence. Get started by simply saying to your voice assistant "Launch VP Day Stories".
Moving images and film can also be accessed via State Library's interactive online tool, Explorer. The tool allows you to delve into WWII images and film, tag and describe photos, and share your own stories and images. This is an exciting opportunity to contribute to the story of Queensland.
Learn more about the Anzac Square Memorial Galleries or by emailing anzacsquare@slq.qld.gov.au.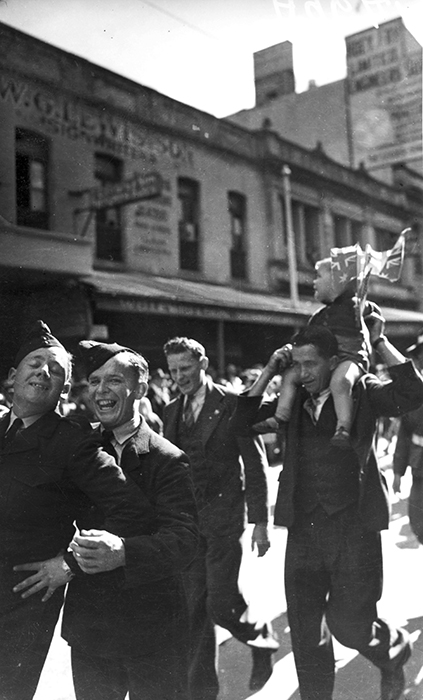 Soldiers participating in the VJ Day processing, 1945.
Tags:
History & commemoration

Ideas & info