Then and now: How life during WWII mirrors our 'new normal'
29 July 2020
From masks to rationing, gardening and lockdowns - some WWII restrictions have made a comeback during COVID-19.
COVID-19 has been dubbed the greatest challenge the world has faced since the Second World War. Comparing a global health crisis to a world war might be a long bow to draw, but there are some obvious similarities between restrictions put in place on civilians during World War II and those we have experienced in recent months.
Rationing gives us equal access
To help manage supply shortages and civilian consumption during WWII, rationing regulations were introduced in Australia in mid-1942. Food ration coupons were needed to purchase meat, tea, sugar and butter, and eggs and milk were rationed when supply was low. Clothing and petrol were also rationed.
We've again had to resort to rationing during the COVID-19 pandemic, when major supermarket chains introduced restrictions on certain items in response to an increase in consumer buying or 'hoarding', when shelves were stripped bare by customers stocking their homes for periods of isolation. As a result, purchase limits were placed on toilet paper, tissues, eggs, tinned food, pasta and rice.
Fortunately, Australia's own production and supply chains meant that, during both WWII and the pandemic, we didn't experience the extremes of supply shortages that other countries did.
Vege patches pop up in yards around the country
In 1942, the publicity campaign 'Dig for Victory' was launched to encourage households to plant and grow their own fruit and vegetables to support the demand for fresh produce during the war. Known as Victory Gardens, the idea was embraced by those who already had a vege patch – extending their plantation across any usable garden space – and many who hadn't before ventured into growing their own food.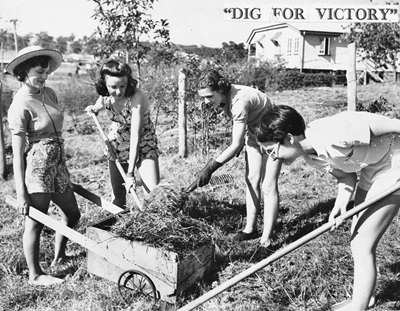 Home vege gardens saw a revival earlier this year with vegetable seedlings and fruit trees being bought out of nurseries as families entering lockdown realised the value and importance of growing and harvesting their own fresh produce in times of scarcity and necessity. Backyard chook pens even saw a resurgence to meet the demand for eggs when store supplies ran low.
What was originally promoted as a patriotic activity that every family can do to contribute to the war effort has become a hobby for many in times of isolation.
Masks first hindered detection, now they hinder infection
While health professionals recommend the wearing of face masks to help stem the transmission of COVID-19, it was our cars that were required to wear masks, or headlight covers, during WWII to limit the amount of light omitted from vehicles driving at night.
This practice was introduced as an air raid precaution to hinder aerial detection and was known as a 'blackout', or a 'brownout' in Australia. As our security requirements weren't as high as other countries, the need to reduce light was less significant.
From curfews to lockdowns
Every state and territory in Australia experienced a lockdown of sorts in the first half of 2020, in an attempt to reduce the spread of COVID-19. Orders to stay in our homes to isolate or not move outside of our suburbs or states has seen millions of us confined. But it isn't the first time that a lockdown of sorts has been put in place.
In 1942, a curfew was introduced in northern Queensland, whereby so-called 'enemy aliens' – people of German, Italian and Japanese descent or nationality – were not allowed out of their homes between 8pm and 5am. The curfew was introduced as law in response to a growing concern for the security of Australia's north.
As with our recent restrictions, there were special exemptions during the WWII curfew for hospital and essential workers. Overall, the law was considered a failure and was finally abolished in 1945.
Aussie attitude one of unity
With almost one million Australians serving in WWII, the message at home was one of 'equality of sacrifice': we're all in this together and we all need to do our part for our country. The sense of unity among Australians, who pulled together and worked hard, has been lauded for decades.
Similar messages have been spruiked in the wake of the measures introduced to protect the wider community from the potentially significant health impacts of COVID-19. And research has found that we're generally onboard, with 86 per cent of Aussies positively changing their behaviour in response to government advice around COVID-19.
(Photos courtesy of Australian War Memorial and State Library of Queensland)