Honouring the life of veteran Joe Cottrell
26 August 2022
WWII veteran and Sandgate RSL Sub Branch member Joe Cottrell sadly passed away just weeks after celebrating his 100th birthday.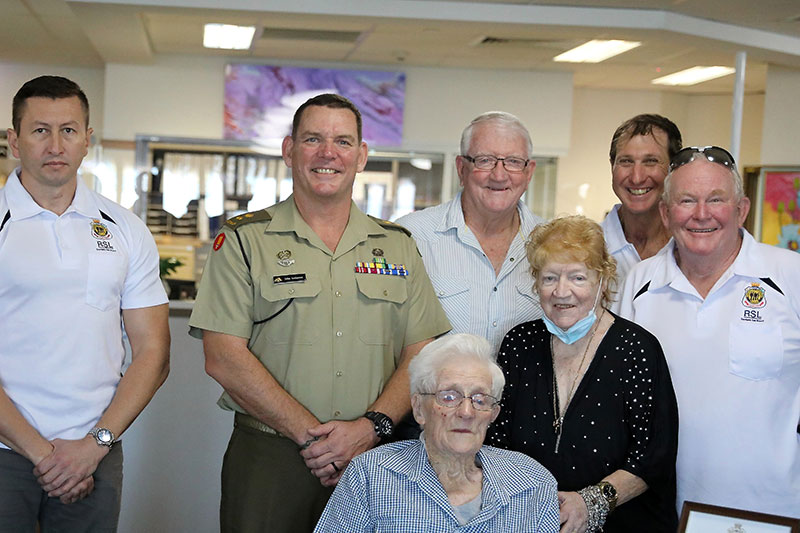 Word War II veteran and Sandgate RSL Sub Branch member Joe Cottrell, front centre, with, from left, Sandgate RSL Sub Branch Acting President Don Baker, LTCOL John Anderson, Joe's son Rick Cottrell, and daughter Susan Bathson, Sub Branch secretary Andrew Law and Sub Branch Wellbeing Officer Terry Slader.
Surrounded by his mates, family, and RSL members, Joe celebrated his milestone birthday on 30 July 2022.
Joe served in the British Army from 1939 until 1943 when he was injured, and he moved to Australia in the 1950s as a "10-pound Pom". A patriot, at 17 he was too young initially to join the Army in WWII so instead joined the Lightkeepers – a form of British home guard.
When old enough, he enlisted and was allocated as a paratrooper to 1st Parachute Battalion (the Red Berets). Formed in 1941 from volunteers from various infantry regiments, it became part of the 1st Parachute Brigade, the only airborne infantry unit from Britain that served in Africa.
In 1943, after completing training, he made his first 'operational jump' into North Africa. After weeks of patrolling, raiding and contacts across their Battalion area of operations, Joe's platoon encountered German soldiers occupying some high ground. Joe Cottrell sought cover from the open ground in a nearby ravine. "I moved across open ground till I got to a ravine where there was some cover. All of sudden I heard a ping, then another ping on my helmet," Joe says. That ping was a bullet hitting the helmet he was wearing. Joe was knocked out, suffering a head wound.
"I was injured and lucky enough to be picked up in a jeep by friendly forces. When I woke up, I saw angels and thought I had gone to heaven." Those angels were the nurses that cared for him while he was in hospital.
Sandgate RSL Sub Branch Acting President Don Baker says Joe's story illustrates the rich tapestry of experiences within our veteran community and the shared military history between Britain and Australia.
"Our veterans are truly remarkable," Don says.
"It was an honour to be able to visit with Joe, a member of our RSL, in his 100th year and listen to his story. A story of sacrifice and service to country.
"A story that many of our serving, ex-serving and families share through their connections to our Defence Force."
Lieutenant Colonel John Anderson, the Chief of Staff 16th Aviation Brigade, says Joe's 100th birthday was a great opportunity to connect with the veteran community.
"It's not every day you get to spend time with an ex-serving member in their centenarian year," LTCOL Andreson says.
"I feel honoured to represent Army and very privileged to have met Joe and presented him with a certificate from the RSL for his 100th birthday while listening to his extraordinary stories."
Don says that Joe's passing will be felt by everyone who knew him.
"Joe was a gentleman and an absolute character of our Sub Branch. When presented with the ANF from Anika Wells MP at our monthly social event, he provided us with insight into the history of the Sandgate RSL, including dances on a Friday night and other social meetups. His parting comments were 'I'm so impressed to see that this same type of spirit still lives on. As you walk in here you can feel that belonging and it is wonderful. God bless you all.'
"He will be sorely missed by all that had contact with him."
Want to stay informed? Subscribe today and get the latest news, services, events and more direct to your email inbox.