Gold Coast veteran paving the path forward
31 January 2022
Diving helped Navy veteran Jonathan Farnell overcome PTSD. Now he's teaching other veterans how to dive and helping them heal along the way.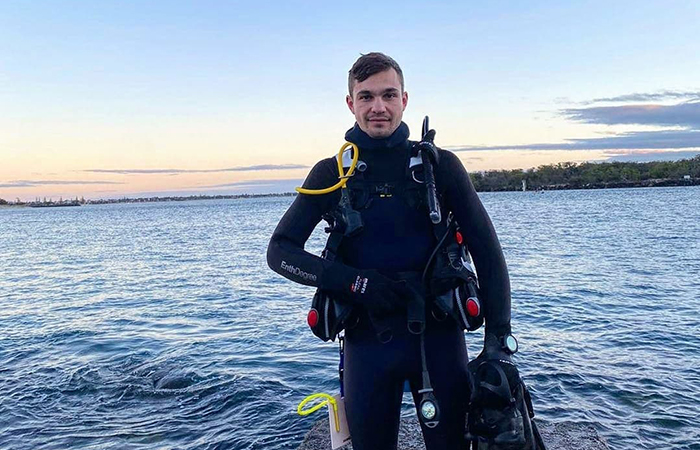 PathFinders Diving founder and Navy veteran Jonathan Farnell
A pathfinder is defined as a person who goes ahead, discovering and showing others the way.
It seems fitting that veteran Jonathan Farnell named his business – which aims to help veterans through their transition to civilian life – Pathfinders Diving.
Having served in the Navy for five years, the Gold Coast local is using his experiences to help lift others up.
"My mum is a psychologist and I guess I inherited her caring nature. I've always naturally gravitated towards supporting other people through their tough times," Jonathan says.
FROM SHIP TO SHORE
Jonathan joined the Navy with ambitions to be a clearance diver and started his Defence career as a marine technician.
"I figured I'd start there and transfer to a clearance diver. I loved the water and have always been a big fan of boats," he says.
"I did my basic training and went through category school where I injured my knee pretty badly."
His naval career progressed despite his injury, and he was posted to HMAS Kuttabul, HMAS Success and HMAS Adelaide during his service.
"I worked on the commissioning of the HMAS Adelaide, and it was around then that I blew out my knee again," he says.
"The crew on Adelaide were just fantastic," he says.
"To work together as a team. That was the highlight of my career – that teamwork. Turning up for work, doing the job and hanging out with your mates. That was the best time."
FORCED TO LOOK BACK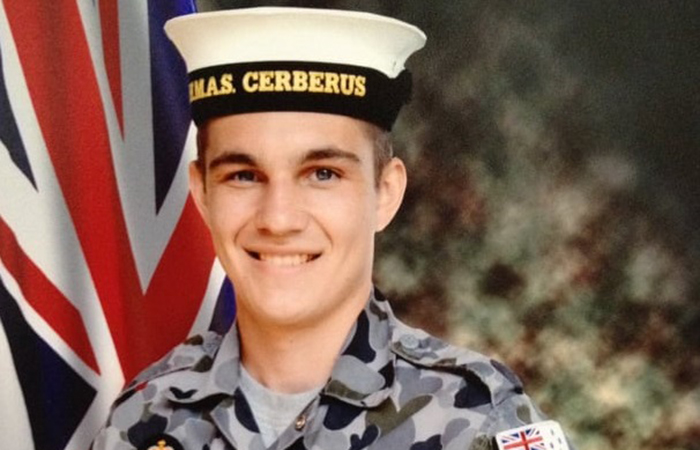 Jonathan during his time in the Navy
Just as Jonathan was starting to see a path ahead for his career, he was diagnosed with post-traumatic stress disorder (PTSD). He says several key traumatic events throughout his Navy career combined to force him to seek a diagnosis.
"I just kind of sucked it up, moved on and focused on my career," he explains of the time period following each event.
"Unfortunately, it was the butterfly effect of events that happened.
"One day at my desk at FSU I could have sworn I could hear construction works outside and I was getting concerned about what was going on. I went to one doctor who brushed it aside and then I went to another doctor who was incredible, suggesting I might have been experiencing anxiety."
"I thought anxiety was just being worried about the future but working with this doctor I learnt that the symptoms I was experiencing was my body telling me I needed a break. That it had had enough.
"I hadn't faced my problems."
Shortly after leaving service, Jonathan spent five months in a mental health hospital.
"They could see my body and mind had just been pushing through and it was all catching up with me," he says. "That's where I was diagnosed with PTSD, depression and anxiety."
It took him two years to come back to life after the experience.
"It took a while to start finding the joy in life again and in things like diving," he says.
"Every time I went diving, I felt like I was coming back to life."
DIVING TAMES IT ALL
For Jonathan, setting up his diving equipment and getting ready to hit the water is like a wave of release.
"Once you go underwater and you're diving, it doesn't exist anymore. It's all out of your head. All there is, is the dive."
Jonathan is now turning his passion for diving into a career change by setting up Pathfinders Diving, a diving school that will also help veterans transitioning to civilian life.
"There's a big difference between instructing and going for a dive by yourself. Instructing someone – to me – is a lot better than just doing a normal dive," he says.
"When you're instructing, you have to stay switched on the whole time. So, you become a lot more aware of your surroundings. You're worrying about the group being trained to respond to something should it happen. You're ready for anything."
A PATHFINDER IS CREATED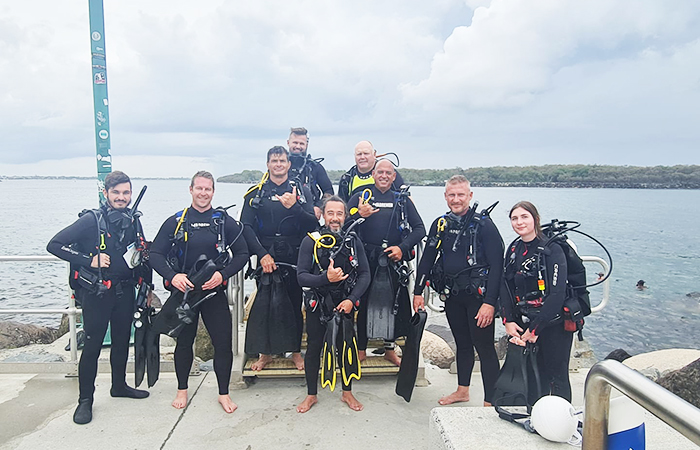 A group of Jonathan's diving students
Jonathan is now finding clarity and a new direction through setting up his business.
"Everyone has been so helpful. I thought I was going to have to go at this alone. It's the community coming together, and it's restored my faith in our structure a lot," he says.
"I want to help people like myself that need companionship and mateship. I want to make the courses as easy as possible for people to access. I want to share how much I enjoy diving and what it gives me with other people."
Jonathan's hope is that eventually the programs and courses will be recognised by organisations like the Department of Veterans' Affairs to help veterans.
"Being underwater is forced meditation. When I came out of the Navy, I tried everything. I tried the books, I tried meditating. I tried music. I tried everything and nothing worked," he says.
"Diving works because you have to focus on breathing and it is subconscious because the better you breathe, the longer you can stay underwater. It's a simple equation."
DIVE IN
Learn more about Jonathan's diving program online at Pathfinders Diving or by emailing contact@pathfindersdiving.com.
RSL Queensland is not affiliated with Pathfinders Diving in any way and does not guarantee the accuracy, currency or completeness of any material created or published by Pathfinders Diving. RSL Queensland does not accept any responsibility or liability, including indirect or consequential loss, arising from, or connected to Pathfinders Diving or any reliance upon this article, whether or not caused by the negligence of RSL Queensland or its agents. This article is not a substitute for exercising your own judgement, making your own enquiries and/or obtaining independent advice regarding whether Pathfinders Diving and its products and services are suitable for your individual circumstances.
Want to stay informed? Subscribe today and get the latest news, services, events and more direct to your email inbox.
Tags:
Courage

Health & wellbeing

Mateship

Veteran stories