Free yoga classes for veterans offer wellbeing and connection
15 March 2023
Current and ex-serving Defence members can access free, trauma-aware yoga thanks to the volunteer-run organisation Frontline Yoga.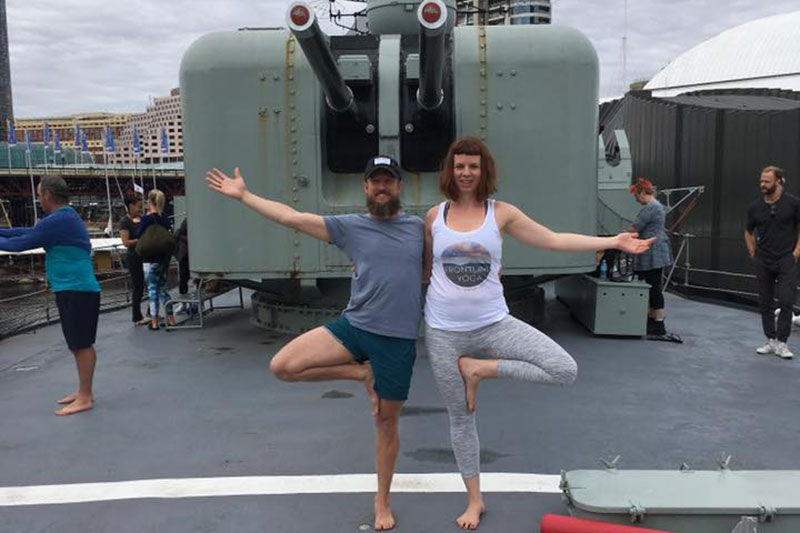 Frontline Yoga's Chris Thompson-Lang and Kate O'Donoghue
The classes are being offered to all frontline professionals including military, police, fire, ambulance, healthcare workers and volunteer emergency services. They are suitable for beginners and particularly helpful for those experiencing chronic stress, depression, anxiety, or post-traumatic stress.
Royal Australian Air Force member Sharon Bown says the classes provide her with many benefits.
"As a veteran, Frontline Yoga provides me with a safe, secure, and supportive environment in which I can explore and come to understand the physical and psychological challenges unique to me and to my life experience," Sharon says.
"Frontline Yoga provides me with community, strength, and resilience to live a full and engaged life, and to truly explore a life of wellbeing."
All Frontline teachers are trained in trauma-aware yoga techniques and have an excellent understanding of the impact of a well-modified yoga class to assist participants.
Using mindful modifications, props, pose alternatives and breathing techniques, their teachers support the physical differences of participants and offer effective techniques for stress reduction.
To join one of Frontline Yoga's classes either online or in-person in Queensland, NSW, ACT, Tasmania, the NT or South Australia, visit frontlineyoga.com.au/classes or follow them on Instagram @frontlineyogainc or Facebook @FrontlineYogaInc.
Want to stay informed? Subscribe today and get the latest news, services, events and more direct to your email inbox.