Finding new ways to honour the past
31 October 2023
History & commemoration

Veteran stories
Esk RSL Sub Branch is sharing Australia's military history to connect with locals and visitors to their small country town.
According to Rob Rye, the township of Esk is like any typical country town. Rob describes Esk – which has a population of just 1,600 people – as being a quiet place on the highway, where the locals are great, and travellers stop by on their way through.
As President of Esk RSL Sub Branch, Rob leads a group of around 70 members who are embracing opportunities to share the stories of the past to connect with locals and visitors alike.
From kitchen to commemoration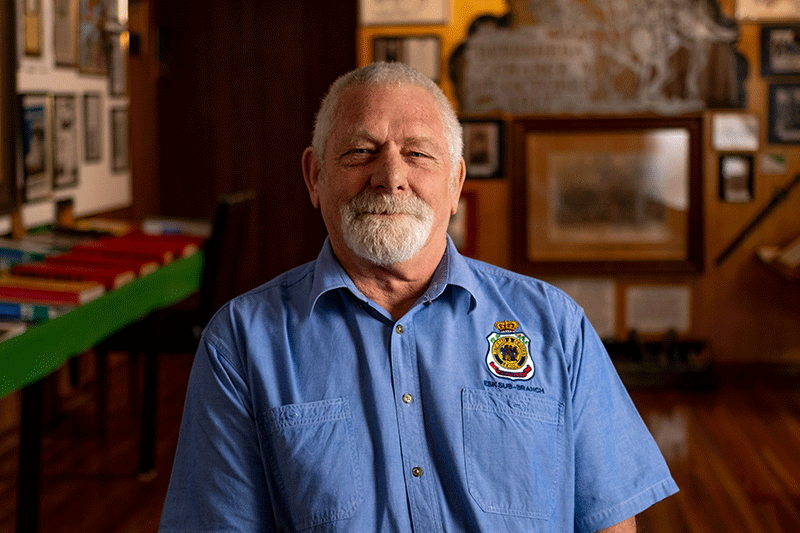 Esk RSL Sub Branch President Rob Rye
When the COVID pandemic forced the Sub Branch's kitchen and dining room to stop operating, they transformed the space into a museum to put their large collection of memorabilia on display. Now, Rob and museum coordinator Roy Smith – both Army veterans – take tours to share the stories behind the items.
"We had the local Scouts come through one night. Roy and myself took half each and went around and explained everything to them and answered questions. They were totally rapt about the whole situation and being able to see and understand things," Rob says.
"We've also had the local school – grades two and three – come through. We explained the Australian flag… Well, most of them explained the flag to us!"
"And we told them about the 'kangaroo' feathers in the slouch hat; they were all querying 'Kangaroos don't have feathers'," Rob recalls.
As the museum's curator, Roy fondly describes a series of model airplanes that were donated to the museum as being among his favourite items.
"We've got about 150 model airplanes that an elderly gentleman built," Roy says. "They are planes depicting what we used in the First and Second World Wars."
Gallantry for all to see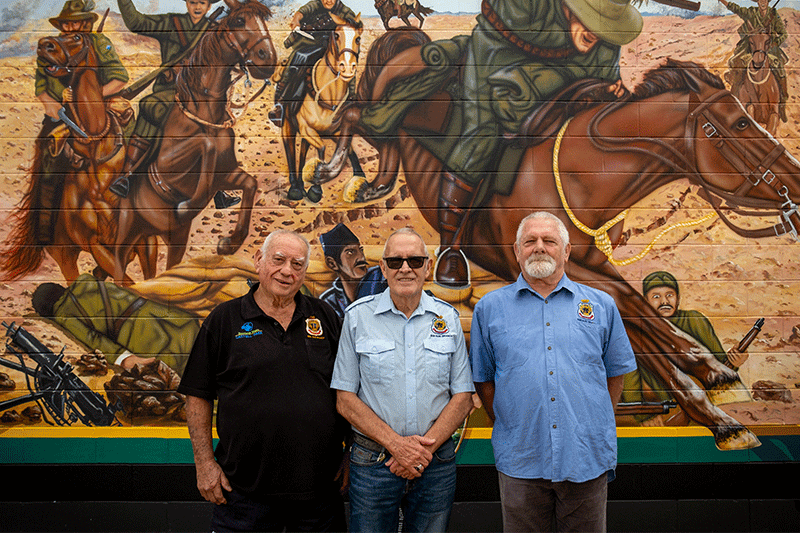 The Sub Branch commissioned a mural of the Battle of Beersheba
It's not just the items inside the Sub Branch that are helping to tell the story of Australia's military history. When Sub Branch patron Charlie Elwell recognised an opportunity on a blank wall of a neighbouring building, the Sub Branch commissioned a mural to depict a moment of gallantry during the Battle of Beersheba in WWI.
"The mural depicts the charge of the 4th and 12th Light Horse Brigade. They jumped the trenches and some of them went through past the trenches to the tents. Then there was hand-to-hand combat to take the trenches, which was successfully done," Roy says.
With both permission and a donation from the business that owned the building, the Sub Branch was able to share this story with everyone who passes by.
"It looks really great, and you can see it from the roadway as you drive past," Roy says.
From commemoration to camaraderie and care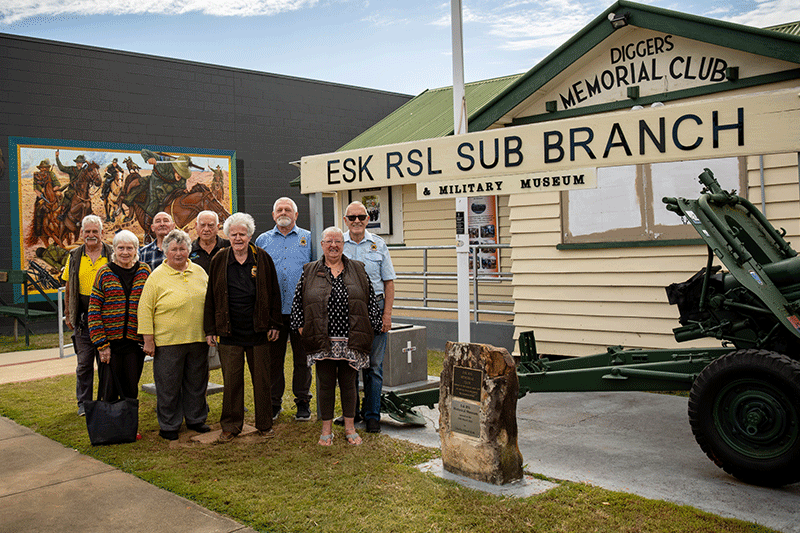 There's a strong sense of camaraderie among the veteran community in Esk
For Rob, Roy and their fellow members, honouring the past and those who have served helps bind the Sub Branch and the community together.
The Sub Branch's ANZAC Day, Remembrance Day and Vietnam Veterans' Day services are well attended by locals and tourists, and the Sub Branch supports other organisations like the Scouts and the Girl Guides.
And with great support from local businesses, the Sub Branch can look after veterans and their families too.
"We provide camaraderie; we get them coming in once a month to a barbecue, so everybody gets out of their house and tries to enjoy themselves. We also connect people to the District for their claims and welfare," Rob says.
"And for Easter and Christmas, we put together a fruit hamper from the local fruit shop that supports us tremendously as well, and we go around and deliver them to the widows; they quite enjoy that.
"We try and look after as many people as we can and help out as much as we can."
Want to stay informed? Subscribe today and get the latest news, services, events and more direct to your email inbox.