Defending Australia's skies
11 August 2020
Stationed on Georges Hill, Audrey Wilson was one of the watchful gunners who ensured no enemy aircraft would darken Sydney's skies.
The lions and tigers at Taronga Zoo were waking up, their growls echoing through the quiet morning air. For the young women on guard duty at Georges Heights, it sounded like they were right there, just out of sight. It was a thought that was almost more scary than the possibility that a Japanese Zero might come into view over Sydney Harbour.
"It was amazing," Audrey Wilson says, remembering back to the two-hour watches she undertook during WWII. "You'd hear all the birds, all the animals, and they sounded so close in the stillness of the morning. It sounded so scary, and we had our guns ready just in case!"
The anti-aircraft battery at Georges Heights was a long way from Bermagui, where Audrey had grown up. With seven members of her family already serving, however, she was eager to do her bit for the war effort. "My two brothers had both gone to the war. One was a commander and one was a paratrooper. My sister had gone to the land army. I was working in this general store, all the newspapers would come in, and I'd read them. And I'd think, 'What am I doing here? I need to go too!'"
Because she was only 18, Audrey asked her mother to sign her enlistment papers and, when she refused, got her father to do it. She had to travel to Randwick to enlist. "I'd never been away from home. So I caught the milk truck to Bega, I caught the bus to Cooma, and I caught the train down to Sydney. I think I cried all the way."
After sitting an IQ test and passing her medical, Audrey was assigned as a gunner to the 1st Australian Heavy Anti-Aircraft Regiment at Georges Heights. The Georges Heights anti-aircraft battery played a crucial role in the defence of Sydney.
"I worked on a predictor, which worked with searchlights, height finder, plotting room and the guns. We had to know every plane in the sky and we had to keep our eye on every plane, whether it was an old Avro Anson out of its area or whatever it might have been. That was what I had to mainly do, and be ready in case there was an invasion to take my part working with the guns," she says. "We'd see the Catalinas and the Sunderlands come in and land on Rose Bay with bullet holes in them. Probably been active up New Guinea way."
"The thing that got me most was the bullet holes. That disturbed us all, we knew how close it was."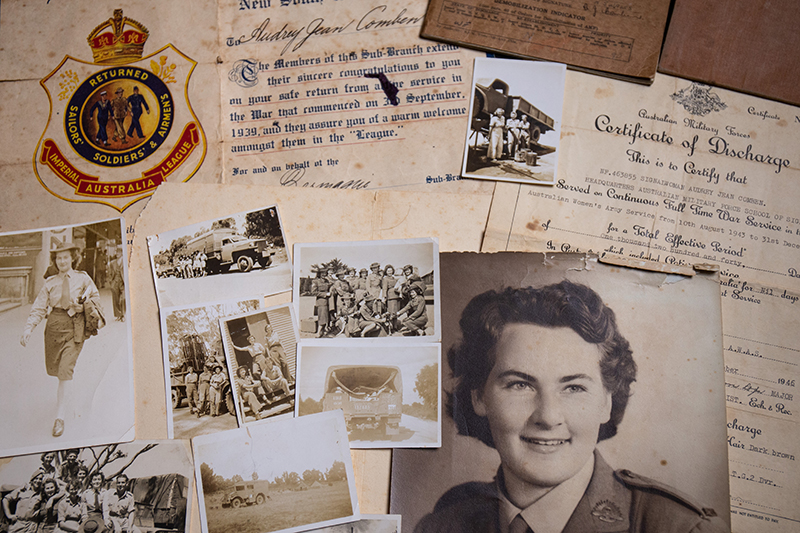 When the end of the war finally came, Audrey says everyone was "thrilled to pieces."
"I drove the truck with all the girls on it across the Harbour Bridge and parked near the pylon there and we all went on the march. And then, of course, we all went a bit crazy and danced in the streets. That was really great."
Audrey finally demobbed in 1946 and returned home to Bermagui, where the local RSL threw her a welcome home party and presented her with a certificate acknowledging her service.
Of the seven members of her family who had signed up during the war, not a single one was lost.
"They all came home," Audrey says. "They all came home. Even though they were in the middle of it."
Tags:
Veteran stories

History & commemoration