Cooking for a cause
05 January 2022
Vulnerable people on the Gold Coast recently enjoyed a nourishing meal thanks to the culinary prowess of veterans.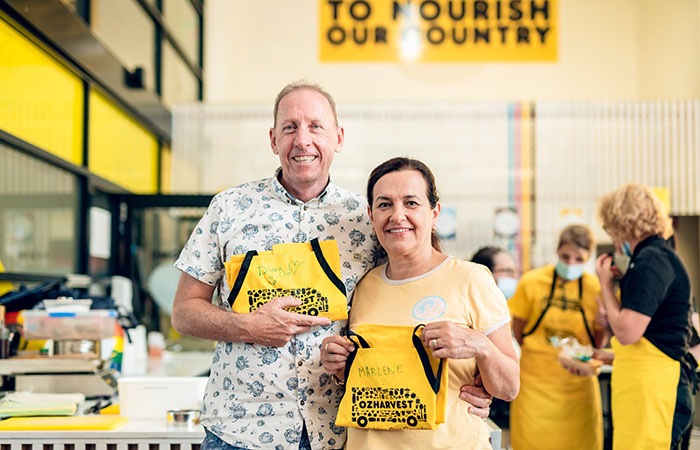 Veterans Doug and Marlene Cumming
RSL Queensland's Active Lifestyles Cooking for A Cause event with OzHarvest took place in late 2021, giving veterans and their families the chance to advance their cooking skills for a good cause.
The cooking workshop saw budding chefs learn how to make Moroccan chicken with vegetables, and meat pies. As well as making 100 meals to support people in need, the recipes made use of food that would otherwise go to waste.
Southport RSL Sub Branch member Doug Cumming and his wife Marlene, both ex-serving Defence members, signed up to the Cooking for a Cause event for a few reasons.
"To us it felt like it was something important and a way to give back to the community. What we cooked was going to go out to people who needed the help," Marlene says.
"And from our personal side it was about getting out and meeting other people who had left the Defence Force and had similar interests.
"It was a safe and friendly environment to go and meet new people. It was a win-win for so many reasons."
In Queensland, OzHarvest rescues more than 30,000 kilograms of nutritious food – that's almost the weight of five adult elephants – delivering it fresh to more than 250 charitable agencies every week.
OzHarvest Engagement Manager QLD Michaela Windsor says Cooking for a Cause is a fun and simple way to engage people in themes of food waste, food insecurity and sustainability in the kitchen.
"It's a true joy seeing people come together, work with our trained chefs and create hundreds of restaurant quality, delicious meals using beautiful produce that are delivered to charities working on the front lines of food insecurity," she says.
"In addition to the 100 meals made during the event, RSL Queensland's booking funded a further 3,500 meals through OzHarvest's unique food rescue program that sees quality, excess food collected from food businesses and delivered fresh and free of charge to charities.
"Impactful programs like Cooking for a Cause quite literally keep our wheels on the road."
STAYING CONNECTED AFTER SERVING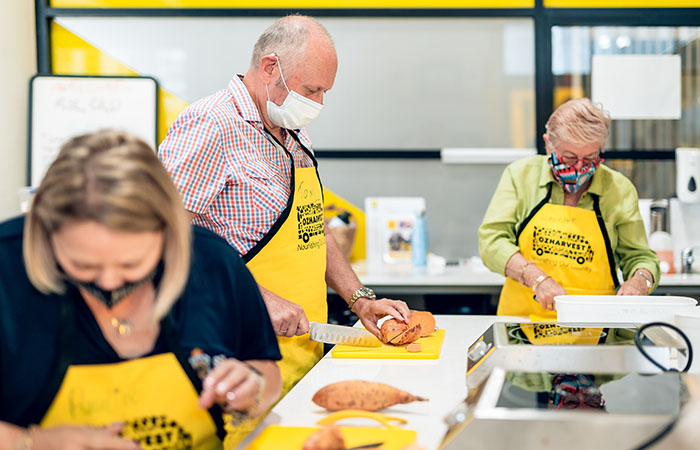 Doug served in the Army for more than 20 years and Marlene served in the Royal Australian Electrical and Mechanical Engineers (RAEME) corps.
Having a continued connection with veterans is something Marlene believes is important to foster.
"I didn't spend long in the Army myself," Marlene says. "But I remember when I got my first ribbon and badge, I felt so privileged. It was a little bit overwhelming. Veterans are very important people."
After cooking up a storm with OzHarvest, they're both planning to try more Active Lifestyles Events.
"It was such a good experience. I love the connection of going back to the military community with RSL Queensland. The program and the reason for it is fantastic," Marlene says.
"Some of the people I spoke to during the cooking class were struggling and shared how big of a deal it was for them to get out of the house and meet people. But they came because it was a safe environment, and they knew there'd be like-minded people there."
For anyone thinking of coming along to an event, Marlene wholeheartedly encourages them, saying there's nothing to lose and everything to gain.
"With OzHarvest, we were doing something for someone else, but at other events you're making stuff and doing things which keep your mind active. Rather than sitting at home and not getting out there, you've got an opportunity to get out and possibly make new friends."
The event itself has motivated Doug to sign up as an OzHarvest volunteer.
"I do a lot of volunteering myself and helping people is so important in life," Marlene shares.
"It's part of what you learn in the Army, to be a team player. Being able to give back to the community is very important and now he has a way to give back."
PUT A DATE IN YOUR DIARY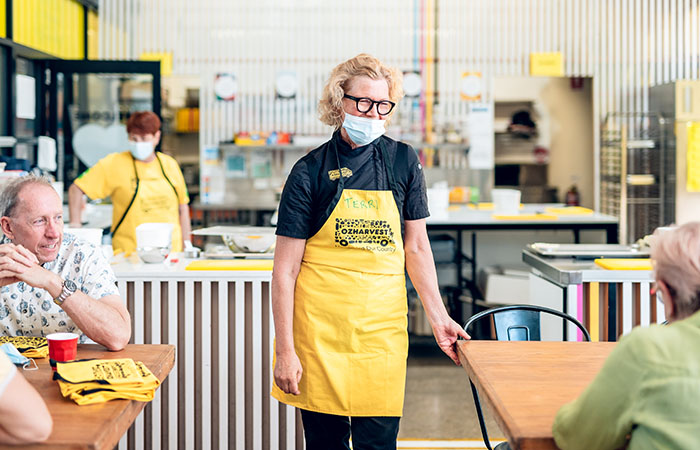 RSL Queensland has a full schedule of Active Lifestyles events planned in 2022, including high ropes, pottery, abseiling, leather work, kayaking, blacksmithing and more.
You don't need to be an RSL member to attend. To register your interest and find out when events are happening, please email partnerships@rslqld.org or visit our What's On page.
Want to stay informed? Subscribe today and get the latest news, services, events and more direct to your email inbox.
Tags:
Health & wellbeing

Ideas & info