Veteran's birthday wish granted by Bundaberg RSL Sub Branch
30 August 2023
WWII veteran Richard Pethybridge was recently gifted the opportunity of a lifetime – to return to Darwin for ANZAC Day.
At 100 years old, Richard Pethybridge is believed to be the last surviving Australian veteran involved in the Bombing of Darwin. To mark his momentous birthday a few months ago, Bundaberg RSL Sub Branch granted Richard his once-in-a-lifetime wish to go back to the Top End for ANZAC Day. The trip was an opportunity to reflect on Richard's story and his service.
Serving during the Bombing of Darwin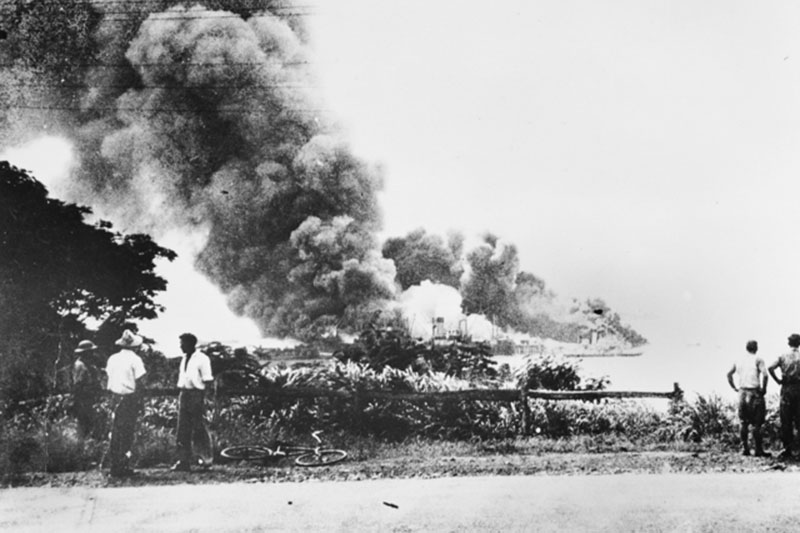 Darwin was bombed by Japan in 1942 (image courtesy of Australian War Memorial)
Back in 1941, Australia's defence forces were fighting in WWII. In response to the increasing threat from the Japanese that loomed closer to home, the Army appealed for home service volunteers to work in Darwin.
Too young to be sent overseas at just 18 years old, Sydneysider Richard Pethybridge responded to the call, moving to the Top End to begin his service. He originally worked on base as a cook, and fondly remembers making Christmas dinner for the troops that year.
However, things took a turn when Darwin was bombed during the air raids of February 1942. Following these attacks, Richard was transferred into a gunner role, in which he remained until the end of the war.
A few years later, Richard celebrated his 21st birthday on a train heading back to Sydney. He was returning home to begin his post as a ship guard, working as part of a transportation effort moving approximately 200 Italian and German prisoners of war to Fremantle.
This assignment would be his last for the Army. After making the trip and spending two months in Western Australia, Richard returned to Sydney by train and was discharged in 1946.
Celebrating 100 years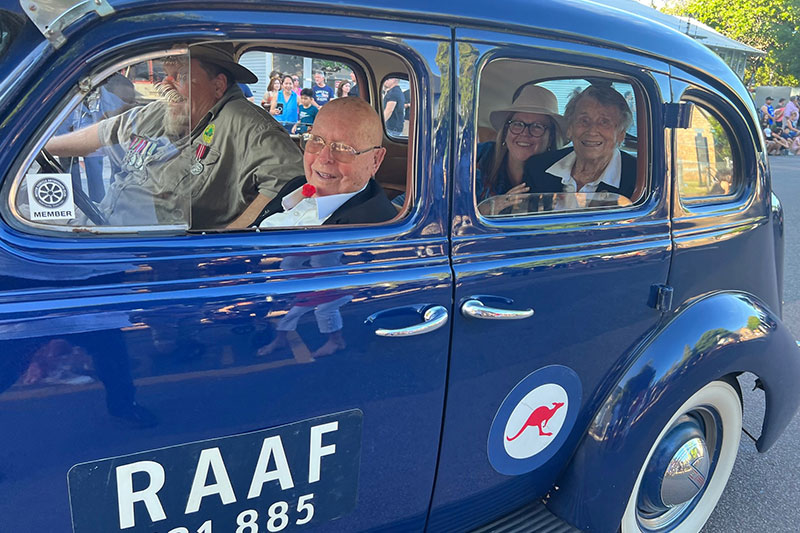 Richard being driven in the lead car at Darwin's ANZAC Day parade
Following his time in the Army, Richard decided to start afresh in Queensland. He originally moved to Sandgate after the war, where he joined his first RSL Sub Branch and met and wed his wife, Mavis.
In almost 60 years of marriage, their union has given Richard two stepsons, nine grandchildren, and 14 great-grandchildren. The pair are now settled in Bargara, a beachside town in the Bundaberg region, where Richard has also been an active member of the local RSL Sub Branch for almost 30 years.
Richard turned 100 on 31 March 2023. To honour this significant milestone, guests from all over Australia attended a party thrown for Richard at Bundaberg's Spotted Dog bar and bistro.
In addition to the celebratory party, the Wide Bay and Burnett District and Bundaberg RSL Sub Branch presented Richard with his 100th birthday certificate and discussed his greatest birthday wish: to return to Darwin for ANZAC Day.
Returning to the Top End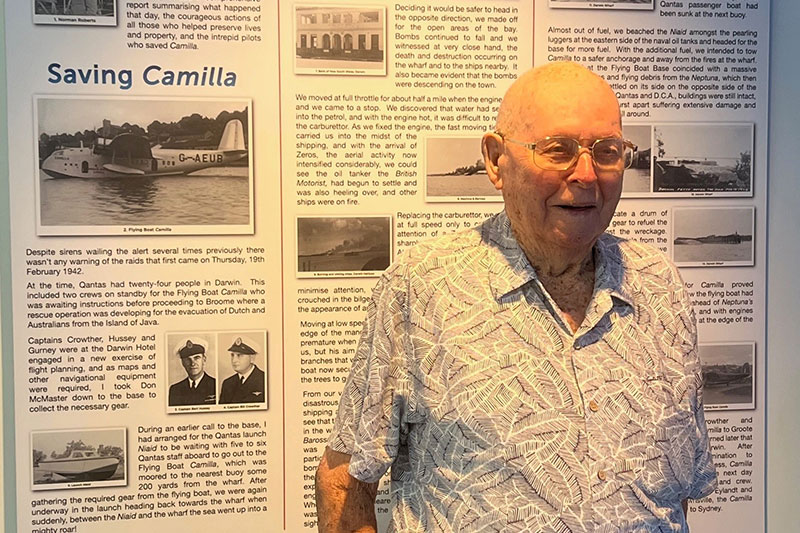 Alongside his family, Richard got to see the sights of Darwin during his visit
As a special birthday gift, the Bundaberg RSL Sub Branch made Richard's wish a reality by organising return flights to Darwin. More than 81 years after the Bombing of Darwin took place, Richard made the trip of a lifetime back to the Northern Territory for its 108th commemoration of ANZAC Day.
With assistance from the RSL and surrounded by his family, he attended the Dawn Service, drove in the lead car in the ANZAC Day parade, and was even interviewed alongside Darwin's RSL President as part of the news. The interview was featured on TV that night and printed in the newspaper the next morning.
After ANZAC Day, Richard took a tour of Darwin to take in the changes in the city, find his old gun sights and visit the Royal Flying Doctor Service display. Reflecting on his experience, Richard believes he is 'just lucky' for reaching 100 and credits his happy family life for getting him there.
Want to stay informed? Subscribe today and get the latest news, services, events and more direct to your email inbox.