Beersheba - The last great cavalry charge
31 October 2020
More than a century ago, 800 Australian Light Horseman made a gallant charge to capture the town of Beersheeba.
The day was drawing to a close. Although the battle had been raging since dawn, the British and Commonwealth forces were no closer to taking Beersheba and securing its vital water supply. Decisive action was needed if the town was going to fall by nightfall.
With little more than an hour of daylight left, the commander of the Desert Mounted Corps, Lieutenant General Harry Chauvel of the Australian Imperial Force, gave the order to charge.
Wielding their bayonets like swords, the 800 men of the Australian 4th and 12th Light Horse Regiments galloped across five kilometres of open desert towards the enemy trenches.
Although the Turkish soldiers opened fire, they were so surprised by the horsemen's charge that they reacted too slowly, failing to adjust their sights. The Light Horsemen jumped the trenches, some dismounting to fight the enemy hand to hand, while the others rode on to take the town.
In little more than an hour, the town of Beersheba and its precious wells had been secured and more than 1,000 Turkish soldiers had been captured. The charge would become known as "the last great cavalry charge in history".
More importantly, the defensive Gaza-Beersheba line had been breached, providing the British and Commonwealth forces an opportunity to move first on Gaza and then Jerusalem.
"The finest cavalry mounts in the world"
When they made the charge at Beersheba, the horses of the Desert Mounted Corps had not been watered or rested in more than 48 hours. The incredible stamina and courage of Australia's Waler horses had been more than proven.
Regular shipments of Australian horses to the British Army in India were being made even in the 1800s. The Walers, as they became known, were renowned as the finest cavalry horses in the world, due to their courage, intelligence, temperament, stamina and versatility.
More than 130,000 horses were sent to the Great War; only one made it home. Quarantine regulations were strict, even at the beginning of the 20th century. To prevent the possible spread of equine diseases, the 13,000 horses that survived the war were not allowed to return. Some 2,000 were in such bad health that they had to be put down, but the remainder were purchased as remounts by the Indian and British Armies, or by British officers.
And the one horse who did return to Australia's shores? Sandy – who belonged to Australian 1st Division commander Major General Sir William Bridges – was shipped home in 1918 and lived out his days at the Central Remount Depot in Maribyrnong.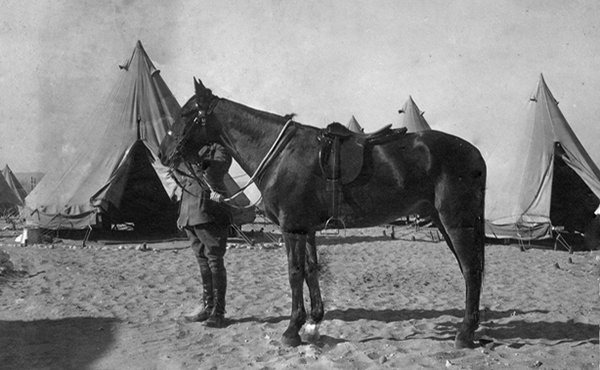 Images courtesy of the Australian War Memorial