An employer who understands is a powerful thing
22 January 2022
Taking steps towards finding meaningful employment as a veteran doesn't have to be a struggle.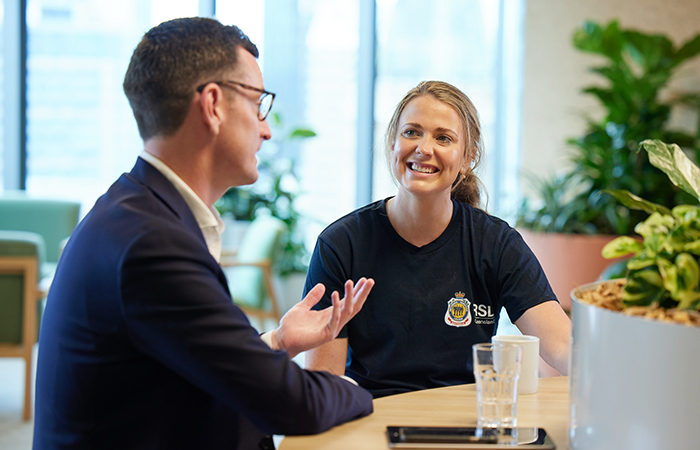 Programs like our RSL Employment program can provide support to help you find the right role. Whether you're transitioning into civilian life or settling somewhere new after relocating, finding meaningful employment is a crucial piece of the puzzle to create purpose and direction.
Helping to educate employers is equally important. Our evidenced-based program helps employers understand the inherent value in hiring veterans and their partners, how to maximise their skills in their organisation, and deepen their understanding of the unique challenges veterans face in Defence.
To date, we've helped more than 400 veterans and more than 150 Defence partners secure meaningful employment after Defence – providing support with career counselling, translating transferable skills, application writing and interview coaching. Likewise, we continue to work with employers – big and small – to demonstrate the value of hiring former Defence members and Defence partners.
With 5,500 people leaving the Defence Force each year, there's an untapped talent pool ready to work hard and achieve success in their new career paths.
One employer who has worked with us for the last 18 months is Brisbane-based Australian finance, insurance and banking corporation, Suncorp Group Limited.
EMBRACING NEW ROUTINES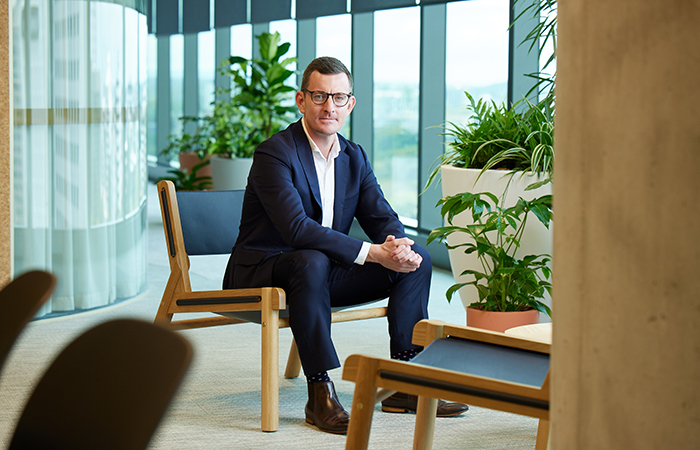 Suncorp Executive Manager Project Delivery Ben Dullroy
Since leaving Defence, Suncorp employee and veteran Ben Dullroy has experienced some significant achievements.
Ben, Executive Manager Project Delivery, joined the Army when he was 17 years old, served for almost a decade and continues to serve in the Army Reserves today.
"One of the biggest challenges you face when leaving Defence is knowing where to start," he shares.
"You're used to things the way they are and a certain culture. When you transition to civilian life a lot of things are very different, and you need a helping hand and guidance on how to adjust."
"Personally, I felt a bit of a loss of identity. We're so used to our uniforms, ranks and structure. And when you step outside of Defence as a civilian, in a lot of ways, you must reinvent yourself.
"For me, I found it challenging to get my bearings and understand how to be a civilian as opposed to being in the military."
SKILLS FOR LIFE
The skills developed in Defence can benefit a range of civilian businesses – from technical and trade-specific roles to corporate leadership positions.
Ben believes many of the skills he honed during his Defence career, such as being task orientated and a natural ability to get things done, translate well to civilian employment.
"Hiring Defence partners and veterans is incredibly valuable to Suncorp. They bring a skillset that we need and a service ethos that aligns to our culture.
"The RSL Employment program offers a lot of benefits for veterans and Suncorp. As a veteran it provides you support and guidance, filtering out a lot of the noise that can be around during transition.
"And as a potential employer, RSL Queensland is an organisation I can trust to work for the members' best interests."
RSL Queensland, through the RSL Employment program, works with organisations like Suncorp to better understand the skills veterans bring to organisations, and discuss the best strategies to engage and retain veterans and their partners.
"The RSL Employment Program works in collaboration with a variety of organisations to provide free access to a veteran and partner talent pool," says Carmen Dyce, Senior Manager Employment Program.
"Working with organisations such as Suncorp, who provide flexible working arrangements and great initiatives to support career progression, aligns well with the needs of our ex-Defence and Defence partner clients."
FLEXIBILITY IS KEY
Suncorp Portfolio Manager for DUT Personal Injury Nicole Revell
Harvard Business Review found that employees generally place a high value on opportunities that improved their work-life balance. They wanted to work for organisations that offered flexible hours, work-from-home options and additional leave.
Add this to the unique experiences of having a partner in Defence, and these opportunities become not just wants, but needs.
Suncorp Portfolio Manager for DUT Personal Injury Nicole Revell's husband has served since 1995. As a Defence partner, Nicole has experienced challenges common to those in her position, including numerous relocations and her partner's deployment.
"From moving around Australia or to different locations, it isn't uncommon that you have to leave your job every two or three years and set up a new position," she explains.
"You restart your life again. Or when partners deploy it can often happen very quickly and you feel as though you're a single parent for quite a few months of a year, which presents challenges when you're working full-time."
"Working at Suncorp gives us flexibility that really matters. When my husband was deployed to Afghanistan, I felt supported the whole way through. I was able to work flexibly to ensure that whenever I had a concern with my children, at school or health-wise, I was able to step away when needed.
"One of the main initiatives we have at Suncorp that supports veterans and their partners is the ability to be flexible with ways of working. When partners are deployed, for example, we're able to move with them and keep our job."
Ben champions Suncorp's commitment to creating a flexible environment for their staff to thrive.
"Suncorp is a flexible employer with work from home and location independent work options to offer staff a really supportive environment. We have military and emergency response leave options and many other initiatives to support veterans and their spouses."
LEARN MORE
The RSL Employment Program works with over 200 Australian employers who are interested in hiring veterans. Learn more about how the RSL Employment Program can support you at rslemployment.com.au.
p>
Want to stay informed? Subscribe today and get the latest news, services, events and more direct to your email inbox.
Tags:
Ideas & info

Veteran stories