Afghanistan through the lens of a veteran
01 September 2023
Navy veteran Jo Dilorenzo reflects on her role as an Imagery Specialist serving in Afghanistan.
Jo Dilorenzo served in the Royal Australian Navy from 1999 until 2016, holding two employment positions over this long career. Here, she shares the story of her time in the military and reflects on her work as an Imagery Specialist post-9/11.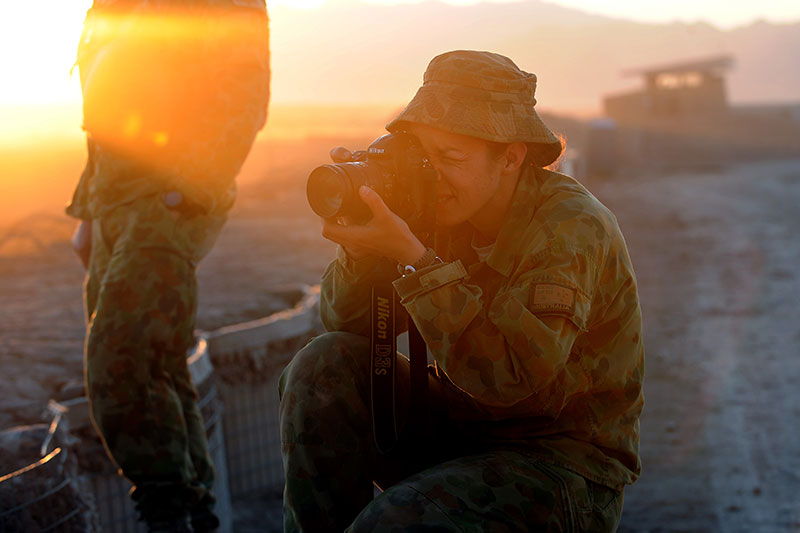 Image: Defence Australia | Able Seaman Imagery Specialist Jo Dilorenzo taking photos at Multi National Base - Tarin Kot, Afghanistan in 2011.
The early years
During the 1990s, a young Jo Dilorenzo was attending boarding school in regional New South Wales. A passion for the arts led her to thrive in creative subjects, which eventuated in a university offer to study television set and prop design. However, life had other plans for her.

"The Navy careers team came to my school and said they were looking for communicators. I decided to join because I craved the structure and team environment that I had experienced at boarding school, and wanted to do more within the community," Jo explains.

Jo enlisted in the Royal Australian Navy in 1999, working as a Communication Information System Sailor for six years. Other than a bit of seasickness at the beginning, she remembers those years of her life fondly.

"I had the best time with the friends I made, and the lifestyle suited me. I was at sea and things were very relaxed," she recalls.

"After 9/11 happened and a lot of people began changing their mindsets… I was maturing and finding my values."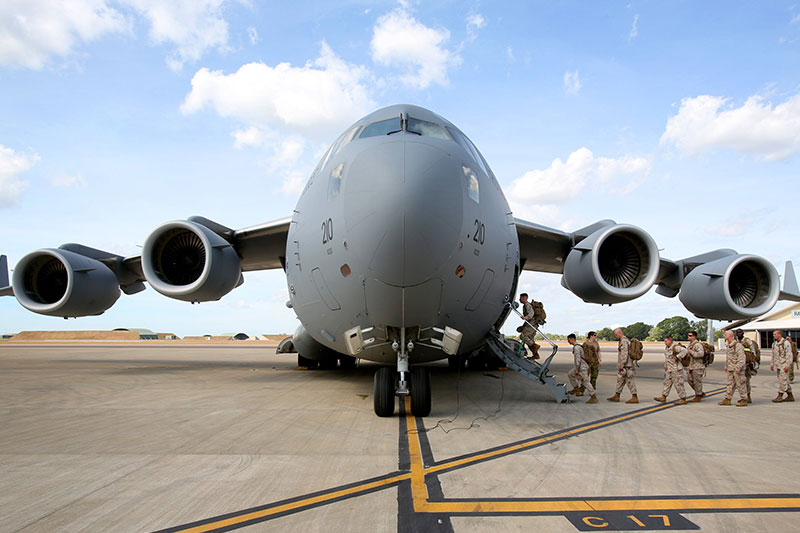 Image: Jo Dilorenzo | Soldiers boarding a C-17 aircraft at RAAF Base Darwin.
A visual career change

Post-9/11, Jo was deployed twice to the Middle East in her communications role. Upon her return, she switched careers in 2008 and became an Imagery Specialist in the Navy's 1st Joint Public Affairs Unit in Canberra. At first, Jo approached her new role with trepidation.

"I was ready to change back to my old career because I didn't feel that I was contributing to the pointy end of missions by taking photos," Jo describes.

"A colleague of mine sat me down and explained that taking the right image can make us, and putting out the wrong image can break us. It really switched my mindset and made me realise how important it was."

Jo spent seven months on photography duties in Afghanistan, while also helping the Female Engagement Team and training the Afghan National Army in imagery collection. She remembers this time as the pinnacle of her career.

"I was writing stories, taking images, and capturing video of what we were doing day-to-day. Even if it never saw the light of day, there was worth in producing archival and time-sensitive imagery for families and friends back home," Jo says.

"Sadly, we had 11 deaths while I was over there, so capturing ramp ceremonies for the fallen was an especially important role," she adds.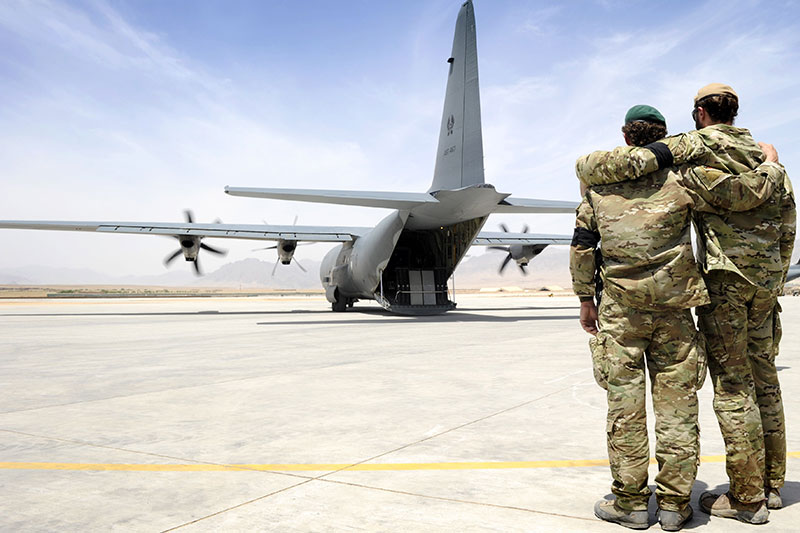 Image: Defence Australia | Two Special Forces soldiers embrace as the C-130 aircraft carrying a fallen comrade departs the Tarin Kot airfield. Image captured by ABIS Jo Dilorenzo
Enduring through education

Jo left the military in 2016, but her contributions to the Australian Defence Force live on through her images. In recent years, her photos have been displayed publicly at the Point & Shoot Australian veteran photography exhibition.

"These photos give people an insight and understanding of what our service men and women have gone through and continue to go through. They show real people doing extremely amazing things," Jo says.

One of Jo's exhibited images was taken moments after an improvised explosive device (IED) had detonated in southern Afghanistan. Casualties were being evacuated for medical support, and the photo shows two people walking away from where a helicopter had landed to fly an injured baby and father to safety.

"Most of my photos don't show faces, so people can picture themselves there and relate to the story. A lot of people are surprised by how big and barren Afghanistan is; and these photos are still educating people about the terrain that our service men and service women had to navigate over there," she explains.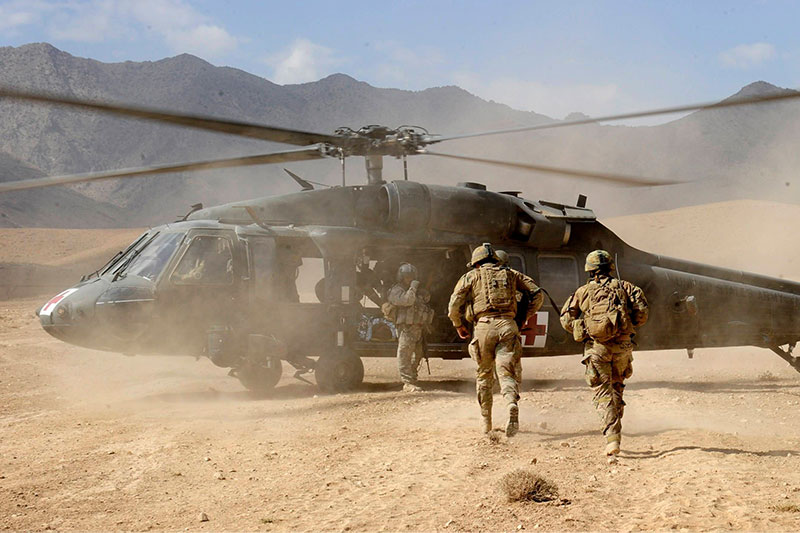 Image: Jo Dilorenzo | Soldiers board a helicopter in Uruzgan province in Afghanistan.
Today, Jo still works behind a camera, albeit in a different capacity.

"I work in education with young children now, so I use photography to allow the kids to express themselves in artistic and mindful ways. It's a lot of fun, and still a massive part of my life," she says.

Point & Shoot exhibition

The Point & Shoot photography exhibition will be travelling to Brisbane on 13-15 October and Townsville on 20-22 October 2023.
Learn More about Point & Shoot

Learn more about Australia's service in Afghanistan

Jo Dilorenzo served in the same province of Afghanistan where the Battle of Khaz Uruzgan took place on 2 September 2008, with 2023 marking its 15th anniversary. Learn more about this significant chapter in Australia's military history