A veteran's best friend
21 May 2021
The Defence Community Dogs program is a life-changer for all involved - dogs, trainers and veterans.
Defence Community Dogs (DCD) provides highly trained assistance dogs to current and ex-serving Australian Defence Force members who need physical and emotional support to deal with mental health conditions, including post-traumatic stress disorder (PTSD).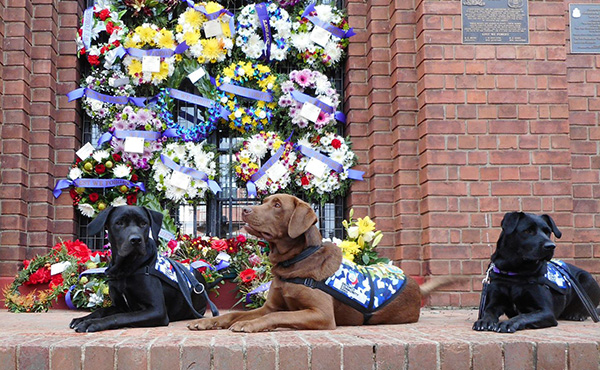 Assistance dogs can increase independence and self-esteem and are trained to provide home support, community support and community access support. Veterans who were a part of the program described their dogs as a truly invaluable part of their rehabilitation.
Past dog recipients have reported improved sleep patterns, reduced episodes of stress and anxiety, reduced reliance on medication, greater independence, and a renewed ability to reconnect with family and friends. Partners and carers have also reported increased independence, and some have even been able to return to work.
RESCUE DOGS GET PROFESSIONAL TRAINING
Every dog in the DCD program is a rehomed or rescue dog and must pass a strict health and temperament assessment before being accepted.
The dogs undertake at least eight to 10 months (a minimum of 250 hours) of professional dog training and must pass numerous assessments to graduate. Training takes place at correctional centres, with the help of professional dog trainers and under the guidance of Steve Austin, one of Australia's leading dog trainers.
DOGS SHARE A CELL WITH INMATES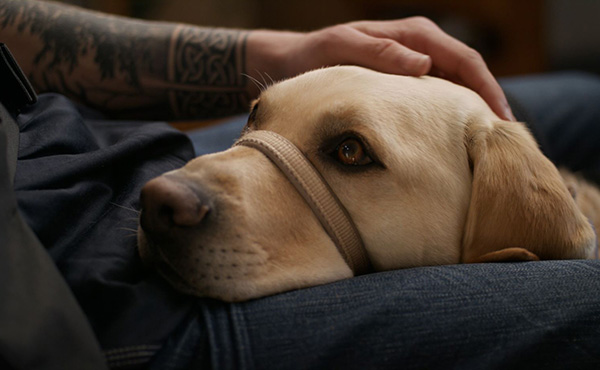 Each dog is allocated to a handler for the duration of their training – a specially selected, minimum security inmate. The dogs spend 24 hours a day with their handler, who looks after all their needs. They even share a cell together.
All dogs are trained to assistance dog level, with training specifically focused on helping veterans cope with their illnesses and injuries. This level of training equips each dog with the competencies and skills required to complete a Public Access Test (PAT), through which they ultimately attain assistance dog accreditation.
COMPREHENSIVE HANDOVER
attend a comprehensive handover workshop at the training facility. Veterans spend eight days working with DCD's professional trainers and program staff, learning how to correctly handle, communicate and care for their new assistance dog.Once a dog has completed the extensive training program, it can be matched with a suitable and eligible veteran and the pair
This also gives veterans an opportunity to gradually bond with their new dog under the supervision of a professional trainer. The DCD team also provide ongoing support to veterans throughout the working life of their assistance dog.
LIFE-CHANGING COMFORT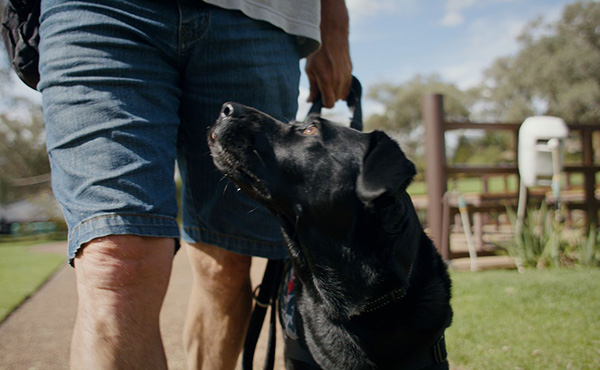 TOM AND BRUCE
"For nearly a year, Bruce has been the biggest (and sometimes the only) driving factor to push me through the days or turmoil – as well as the greatest comfort and companion for the days full of sunshine too. I receive many comments about the differences between not just how much the bond between Bruce and I has improved, but how outgoing and active I have become as a result."
MICHAEL AND LOLA
"Lola has pulled me out of nightmares several times since I've had her. I normally kick my feet and punch in my sleep, but Lola jumps up on the bed and lays straight across my feet and puts her weight on them. It brings me back to the real world. Having Lola has been absolutely life changing."
MICK AND ZAC
"The new member of the family has been a hit! I'm still lost for words. Zac is exactly what we needed. So much joy and excitement around this place in a time that calls for plenty of it. Previously, I was dwelling on the negatives in our life, my illness, doctors' appointments, and my wife's battle with cancer. Zac has brought a positive focus into my life. My whole family loves Zac and he has brought laughter, joy and hope into our home."
ROB AND GUS
"Rob has rarely left the house in the past eight years," his wife said. "But now wherever we go, Gus goes. Gus and hubby are inseparable. They are together 24/7. If he goes to the shops, or the bank or anywhere, Gus is with him all the time. The relationship that they have is truly amazing."
LEARN MORE
To apply for a dog, visit dcdogs.com.au or email info@dcdogs.com.au
The DCD program is funded by the Defence Bank Foundation, a registered charity. All donations over $2 are tax deductible. Thanks to the generosity of donors and sponsors, the dogs are provided to ADF Veterans at no cost.
Tags:
Health & wellbeing

Mateship

Veteran stories