A mother's courage
27 July 2020
The discovery of an old leatherbound diary revealed a heartbreaking story of love, loss and redemption.
"You never think that one of the best stories you're ever going to read is hidden within your own family and wrapped up in your grandmother's travel diary, but it was," says Louise Evans. A journalist, she had just returned from covering the Sochi Winter Olympics when she received a postpak from her aunt, containing an old journal.
"I opened the postpak, sat down on the couch and read it, cover to cover it, in one go. And the hairs went up on the back of my neck. I cried in parts, and I was scared in parts, because it was so raw, so intriguing, so frightening and yet, so beautiful. And I thought, what am I going to do with this?"
The journal chronicled her grandmother Thelma Healy's pilgrimage to South Korea to find the grave of her eldest son, Vincent, who had been killed during the Korean War. And it prompted Louise's own journey – to tell the story of her uncle's loss and her grandmother's abiding love, determination and courage.
The family's golden boy
A teenager during World War II, Vincent Healy joined the Army straight out of school, expecting to join the fighting. But by the time he'd done his basic training, the war was over and he was instead deployed to Japan to enforce the surrender.
To his family back home – his mother and nine siblings – Vince could do no wrong. His Army pay packet helped support the family, while amazing gifts periodically arrived from overseas. "My Auntie Carmel will sometimes put out the good crockery and she'll say, 'Oh, you remember when Vince sent all that crockery from Japan?'" Louise says. "Because they're a big family, to get a set of 10 of anything is very difficult. But Vince buys this crockery set in Japan and sends it home, and for the first time everyone's got matching spoons and plates and cups and dishes."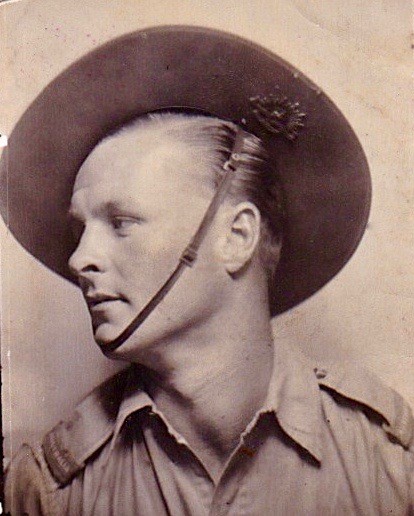 Then, in June 1950, North Korean troops marched across the 38th parallel and into South Korea. The United Nations Security Council moved quickly to send forces to the aid of South Korea, and Australia committed its armed services to the conflict.
When Australia joined the fray, Vince volunteered to go. "I think he thought it was his duty to go and fight for the peace and prosperity he believed in," says Louise.
Vince was among the first troops on the ground, arriving in South Korea with 3RAR in September 1950. But just six months later, the terrible news arrived by telegram – he had been killed, struck in the head by a piece of mortar while bringing an injured digger down the icy hills.
"In the blink of an eye, at the delivery of a telegram, Thelma lost her number one son. Back in those days, there was no repatriation of the body. There was no repatriation of belongings," Louise explains. "Not even his medals came home. Nothing, absolutely nothing came back of her boy."
A daring plan
Louise's mother Geraldine and her siblings say Thelma was in a fog after the news, barely able to communicate in her grief and loss. With nine children to support, however, she picked herself up and a plan began to take shape in her mind.
"She decides that she wants to find out how Vince died, and she wants to go to Korea. She wants to go and see the country that took her son," Louise says.
To fund her trip, Thelma took a job at the Golden Circle canning factory in Northgate, peeling pineapples.
"She's in a tin shed, she's on her feet for 10 hours. She's got dermatitis on her hands from the acid in the pineapples, but she's happy. For the first time in her life, she's earning money. She does this job for 10 years until she saves up enough money that she can go to Korea."
Louise's mum and aunts remember piles of travel brochures and maps covering the kitchen table as Thelma meticulously planned her journey – by boat to Japan, then by plane to Seoul and, finally, by train to Pusan where Vince lay buried.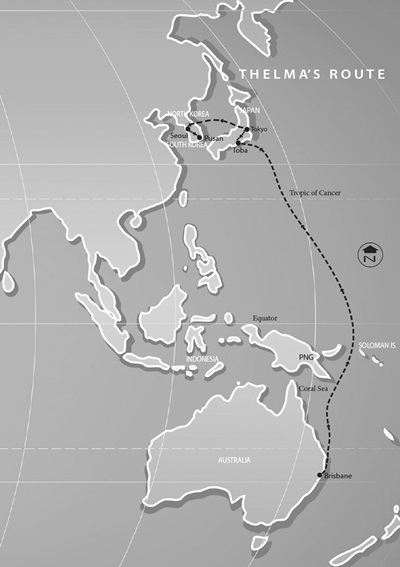 But there was a final hurdle before Thelma could make her pilgrimage. When she notified the Army that she intended to travel to South Korea, she was advised it wasn't safe. Eight years later, the country still bore the scars of the conflict and was only beginning to resurrect itself. And Thelma would be the first bereaved mother to visit the United Nations Cemetery in Pusan.
"And she says, 'I don't care, I'm going.'" Louise says, unmistakeably proud of her grandmother's gumption.
Unable to dissuade her from travelling, the Australian authorities arranged for Thelma to be met by Australia's UN delegate and escorted to the military graveyard in Pusan where, after 10 years, she was finally reunited with her beloved son.
When Thelma returned to Australia, her children say she was back to her old self, smiling and laughing again. Even though she was only eight when Thelma passed away, Louise remembers a loving grandmother who smelled of peaches, gave great cuddles and made beautiful scones.
Reconnecting with the past
After reading Thelma's travel diary, Louise was determined to tell her grandmother's story. She spent two years researching the Korean War and her family's history, before putting pen to paper.
The story became a book – Passage to Pusan – and then a documentary.
"It was a real labour of love," says Louise. "It was something I felt as though I had to do."
After publishing Passage to Pusan, Louise travelled in her grandmother's footsteps back to Korea to shoot the documentary, which was filmed and funded by the Korean Cultural Centre and the Korean government. It was a highly emotional moment for Louise to finally kneel beside her Uncle Vince's grave – as her grandmother did back in 1961.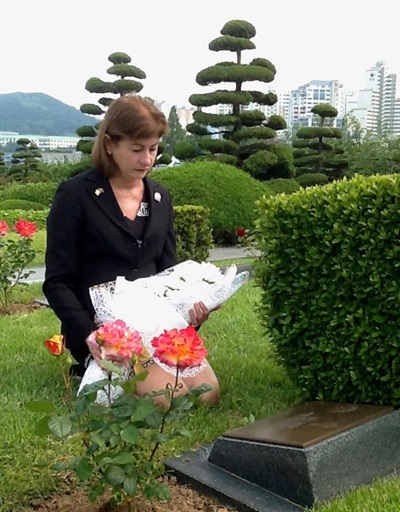 She was also able to meet Australian UN delegate Cavan Hogue, who met Thelma off the plane in Seoul. Mr Hogue provided a poignant postscript to the story.
On seeing post-war Seoul – poverty-stricken and dirty, still on its knees – Thelma was distraught to think her beautiful son had died for nothing.
"He said to me, 'I could honestly tell her that South Korea is rising from the ashes and it will become a great country. Your son did not die in vain. He helped create something beautiful, something big. Go home knowing that South Korea is on the way up and that your son helped save South Korea.'"
Find out more about Thelma's brave journey at passagetopusan.com