A career of soaring heights
02 September 2023
At age 90, Mudgeeraba-Robina RSL Sub Branch member Air Commodore John Whitehead DSO (Retd) reflects on his 32-year RAAF service.
In his father's footsteps

In many ways, Air Commodore John Whitehead DSO (Retd) was destined for a life up in the air. Reflecting on his incredible life story, the Mudgeeraba-Robina RSL Sub Branch member begins with the inspiration he gained from his father's service.

"My father was a Brit who had served in the Royal Navy in WWI before joining the merchant marine and sailing around the world. He eventually left the ship in New Zealand and came to Australia," John says.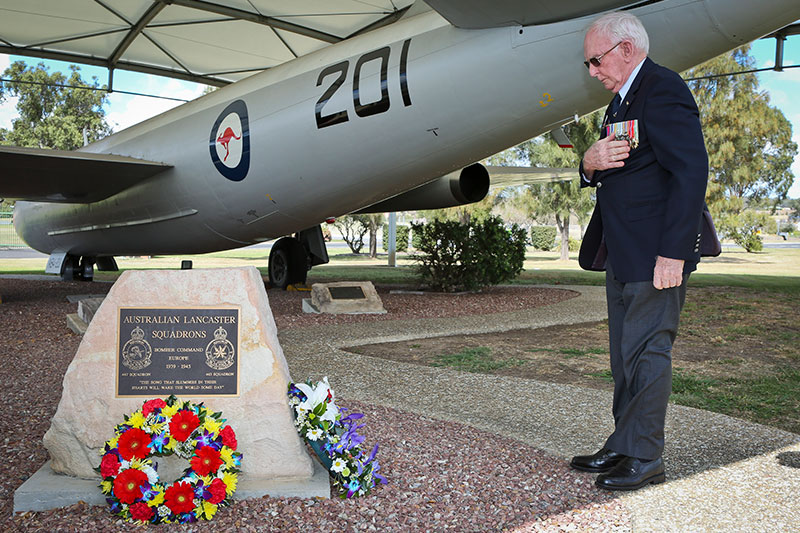 Image: Defence Australia | John Whitehead DSO pays his respects after laying a wreath next to the Canberra Bomber, which John once flew.
John was born in Rockhampton during the Great Depression years. Times were tough. His father searched for work and eventually joined the Royal Australian Air Force (RAAF) at the outbreak of WWII.

"We moved around the country when he was being posted. We lived in Ipswich for a while, then moved to Sydney in the early WWII years. At the end of the war, Dad moved up to New Guinea, and I stayed at high school in Sydney."

During his childhood, John developed a keen interest in aviation, which led him to follow his father – a staunch RSL member himself – into the Air Force. When he turned 16, John's mother filled out the necessary papers, and then he was off to Point Cook to attend RAAF College for four years. He never looked back.

Taking flight

John soon faced his first big career decision: what he wanted to do in the RAAF. He could choose to be on the ground as an engineer, or up in the air as a pilot.

"My father was an engineer, so I thought the best thing for me was to do an aeronautical engineering course at Sydney University, an extension of the RAAF College course," John recalls.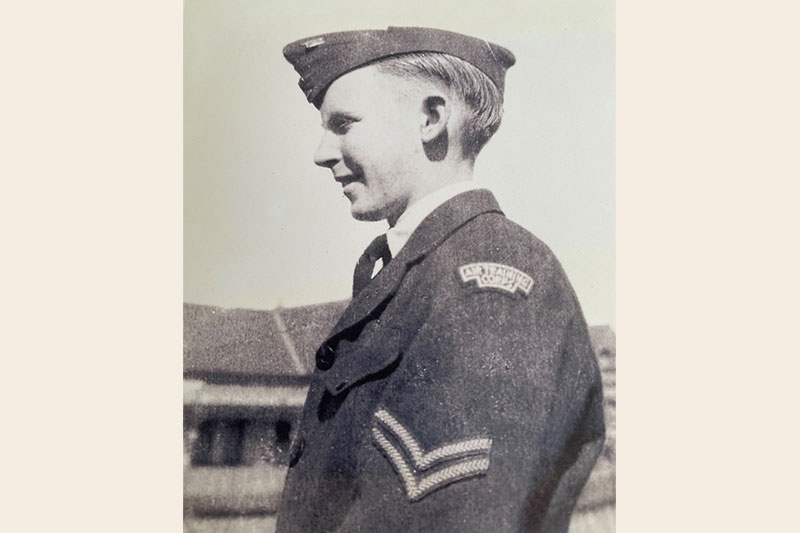 John as an Air Corps cadet in 1948.
"However, by the end of the first year, I changed my mind. I wanted to be a pilot."

John flew Tiger Moth and Wirraway planes in training and over the following 32 years he added Vampires, Meteors, the supersonic Hunter F6, Canberra bombers and training aircraft to that list. John also had several interesting postings in his early career: first to Williamtown, Japan and Korea with 77 Squadron, then England with 74 Squadron Royal Air Force, defending the British Isles against potential Russian onslaught during the Cold War.

When John returned to Australia, he assisted with maintaining the operations room during the second series of British atomic bomb tests at Maralinga, before moving to postings at Glenbrook, Melbourne, Amberley and Canberra.

During the Vietnam War, he was posted to the USAF Air Base at Phan Rang for flying operations, completing 260 operational missions there as CO No 2 Squadron RAAF. He is very proud of the achievements of the Squadron during its deployment in Vietnam, as it consistently achieved disproportionately excellent results. For his leadership, drive, initiative, and interest in the welfare of his subordinates, John was awarded the Distinguished Service Order (DSO) in 1970.

A royal highlight

After the Vietnam War, a career highlight came in 1971, upon the RAAF's 50th Anniversary.

"I had one of the greatest appointments you could ever have: Equerry to the Duke of Edinburgh during his visit to Australia for the birthday celebrations," John says.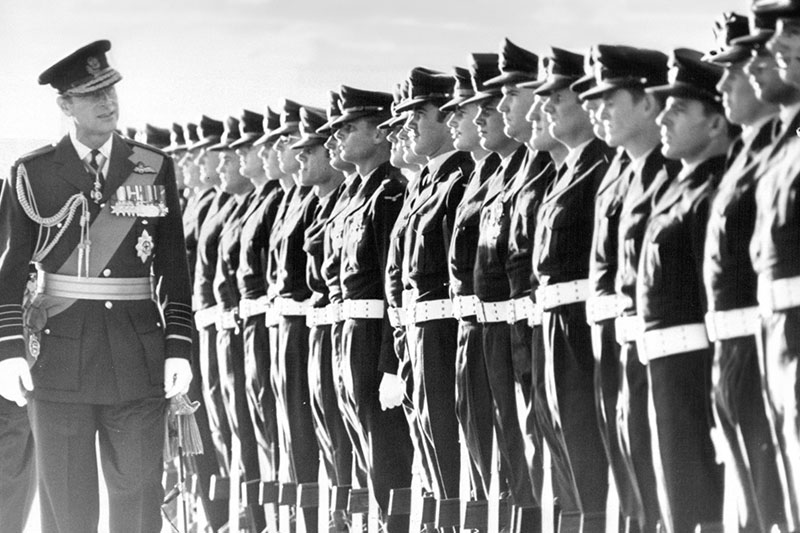 Image: Getty Images | HRH Prince Philip Duke of Edinburgh inspects RAAF Guard of Honour at RAAF Base Fairburn, 1971
He sailed around the South-West Pacific on the Britannia with the Royal Party, and on the Australian leg of the tour stayed in Government Houses, attended ceremonial events, and enjoyed many days and evenings with the Duke.

"It was a really unique opportunity to be so close to him during that period. He was a great person, and I enjoyed the role very much," John reflects.

Full circle

Later, John was promoted to Group Captain and moved to Victoria as Commanding Officer of the Aircraft Research and Development Unit at Laverton. Following this, he was sent to Kuala Lumpur, Malaysia, to represent Australia in Defence matters.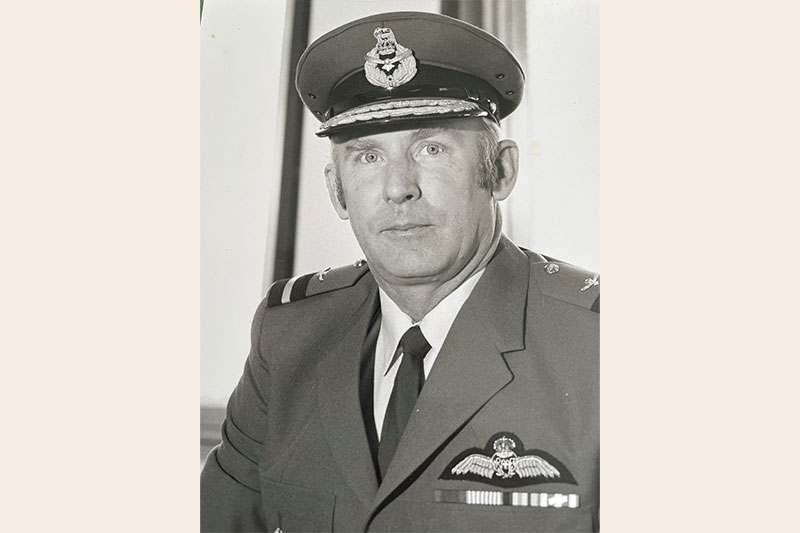 John as Commandant RAAF Academy
After several more years of service John was promoted to 1-star rank as Commandant RAAF Academy and Officer Commanding RAAF Point Cook. He was the first ex-cadet to return as Commandant.
After reaching this goal, and following his final posting in Canberra as head of RAAF Manpower, John left the Air Force in 1981 and retired to the Gold Coast a few years later. Looking back, he's thankful to one special person in his life for her support.
"My wonderful wife, Adrienne, came from an Air Force family, so she was used to moving around the world with her parents. She swapped that life for a similar one with me, and it's been great fun. We've had some good times during our 62 years of marriage."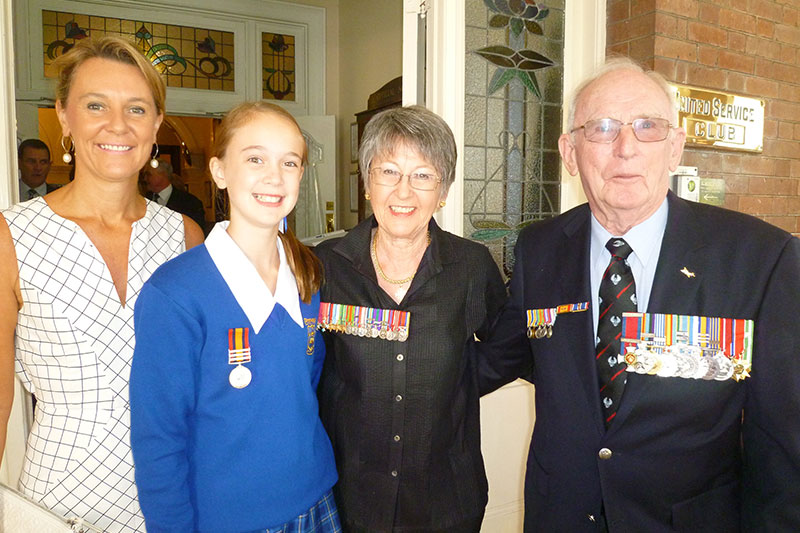 John with his family at an ANZAC Day event.
Want to stay informed? Subscribe today and get the latest news, services, events and more direct to your email inbox.