Ex-Defence Employment Program
We've helped more than 500 veterans secure meaningful employment after Defence. Let us help you write your next chapter.
The RSL Employment Program can support you in your search for civilian employment with our tailored program for ex-Defence members. Whether you're currently transitioning or have been out of the Australian Defence Force for a while, our program is free and can be provided online or over the phone.
Our highly trained team will work with you to determine how they can best support your search for employment. This may include:
career counselling
help translating your skills for the civilian job market
help interpreting selection criteria, and writing CVs, application letters and social media profiles
interview coaching
connections to employers throughout Australia.
"When I made contact with the RSL Employment Program, I knew at all times I could make contact them to discuss employment opportunities. it was very comforting to know they were there and it's and ongoing, healthy relationship. I would absolutely recommend any ex-defence members to contact the RSL Employment Program." - Jacinta, Army Veteran
To be eligible, you must:
be an Australian resident
be an ex-ADF member not in regular employment OR a current ADF member with a confirmed discharge date 
have already exhausted Defence Force Transition Program (DFTP) entitlements
not be currently in the DVA Work Rehab Program.
If you have not already exhausted DFTP entitlements please click here for more information on how to exhaust the entitlements.
The Employment team can help you in a variety of different ways, and is available to talk with you confidentially over the phone or online.
To arrange a consultation, either fill out the form below or call 134 RSL.
Still have questions? Download the FAQ document below to get the answers.
If you have any concerns about how employment might impact any DVA entitlements received by you or your partner, we recommend you contact the DVA directly.
The RSL Employment team is working to help veterans across Australia find civilian employment, using RSL Queensland's highly successful, evidence-based program. The program was a 2021 finalist in the Australian Defence Industry Awards as Veteran Support Program of the Year.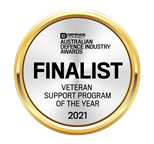 This program is available nationally. 
RSL Queensland is working with RSL Tasmania to support veterans and their partners in Tasmania.
Our Employer Partners