Diggers Rest
When you need some space to yourself, fresh air to breathe and time to clear your head, you can find it at Diggers Rest.
Set on 22 acres in the Sunshine Coast hinterland, Diggers Rest is a welcoming retreat where you can roll out your swag under the stars or stay in a cabin among the rolling hills. Catch up with others around the campfire, lend your hand to a gardening project, or simply take in the surrounds – it's up to you.
"OUT HERE, IT CLEARS ONE'S HEAD, PUTS THEM IN A DIFFERENT SPHERE AND SHOWS THEM THERE ARE THINGS THEY CAN DO, BECAUSE THEY HAVE SERVED." – NICK FORSTER-JONES, DIGGERS REST OWNER AND OPERATOR
THE DETAILS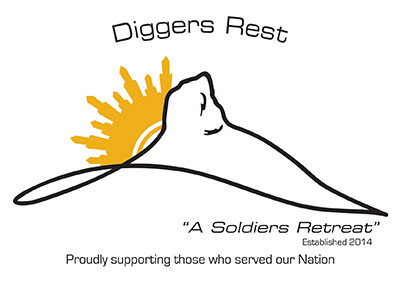 If you have served or are still serving in the ADF, you're welcome at Digger's Rest. Bring your family to reconnect or come alone to recharge. 
"It's like an escape for the veterans. They honestly feel like they have a safe place here, they feel it is their safe haven, which is good." – Nick Forster-Jones, owner and operator, Digger's Rest
A visit to Digger's Rest won't cost you a thing, thanks to support from RSL Queensland.