RSL Queensland Veteran & Family Wellbeing Centre opens in Cairns
29 August 2023
Established by RSL Queensland and Mates4Mates, the Centre is in the heart of Cairns.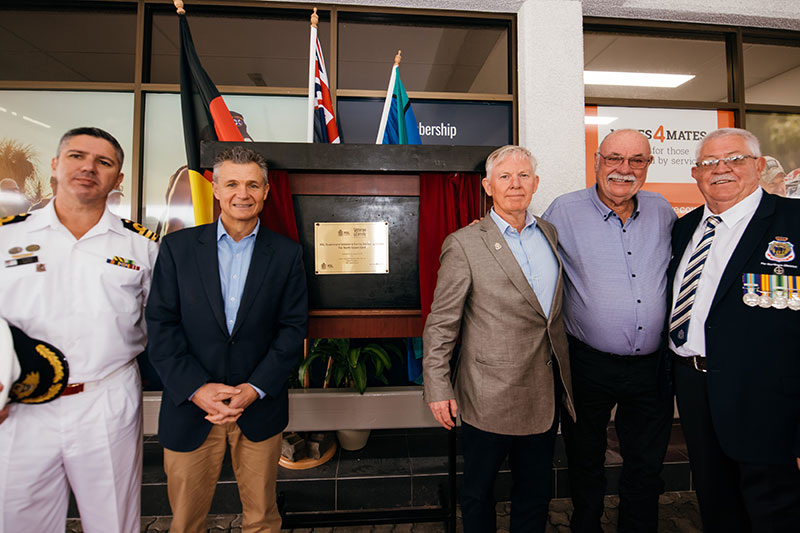 Its official opening was held on Saturday 26 August. As the first-of-its-kind in the region, the Centre will deliver a physical and integrated approach to care, providing meaningful and timely support to the growing Far North Queensland veteran community.
Among the dignitaries in attendance were Member for Leichhardt The Hon Warren Entsch MP, Cairns Regional Council Mayor Cr Bob Manning OAM, RSL Queensland State President Major General Stephen Day DSC AM, Far Northern District President Kenneth Willoughby and Mates4Mates North Queensland Regional Manager Marcia Morgan.
RSL Queensland Far Northern District President Kenneth Willoughby said the Centre would enable veterans and their families to build connections through the District, as well as access a broad range of health and wellbeing services.
"The RSL Queensland Veteran & Family Wellbeing Centre, co-located with the RSL Far North Queensland District Office, will provide veterans with a safe environment to receive the support they need in one centralised location," Mr Willoughby said.
"Through the delivery of clinical programs and telehealth practice, including consults with psychologists and exercise physiologists, the Centre will facilitate greater access to services needed by veterans and their families.
"Our membership base will also provide an invaluable support to the broader veteran community across Far North Queensland, particularly though the efforts of our outstanding volunteers."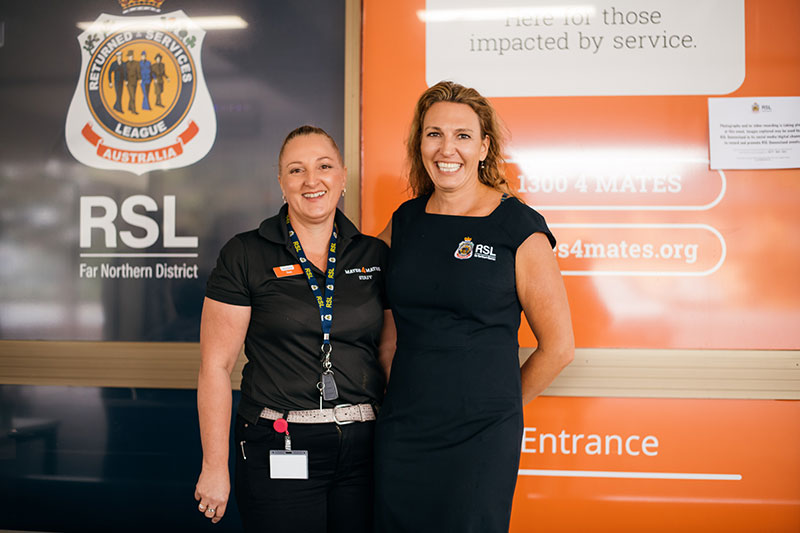 Mates4Mates North Queensland Regional Manager Marcia Morgan said the opening of the new RSL Queensland Veteran & Family Wellbeing Centre had answered the call from Far North Queensland's veteran community and complements the social connection support Mates4Mates has been providing in Cairns for the past two years.
"We know that Far North Queensland has a rapidly growing veteran population, and it is important that we continue to expand our service offerings in line with the increased demand being felt across the state," Ms Morgan said.
"We have seen in our Mates4Mates Veteran & Family Wellbeing Centres how working closely with RSL Queensland can ensure we are providing the highest quality of support to veterans in not only Far North Queensland, but across Australia."
Support offerings within the Centre include advice, mental health services, physical rehabilitation and wellbeing services, social connection activities, skills-based recovery programs and advocacy services.
Want to stay informed? Subscribe today and get the latest news, services, events and more direct to your email inbox.