No creature left behind
23 November 2022
Australian Animal Aid is helping animals impacted by the war in Ukraine.
Written by Nigel Allsopp, President and founder of the Australian War Animal Memorial Organisation Inc. (AWAMO). Nigel is an author with expertise in war and service animals and zoo animal management. He received the RSL ANZAC of the Year Award in 2017.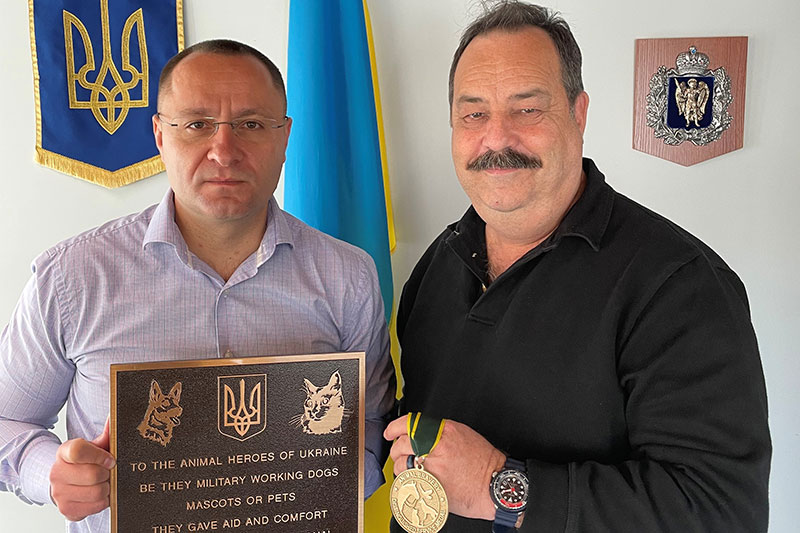 Ukraine's Ambassador to Australia Vasyl Myroshnychenko with AWAMO founder Nigel Allsopp
The United Nations estimates that more than 12 million Ukrainians have fled their homes since Russia's invasion. Many are pet owners, forced to flee with their beloved animals – often without food, medicine or other essentials.
Whether people flee or perish, conflict often depopulates entire regions, causing animals to be left behind. Domestic animals may be abandoned without adequate access to food or water, confined or restrained, or left to roam amidst war.
THE SUPPORT MISSION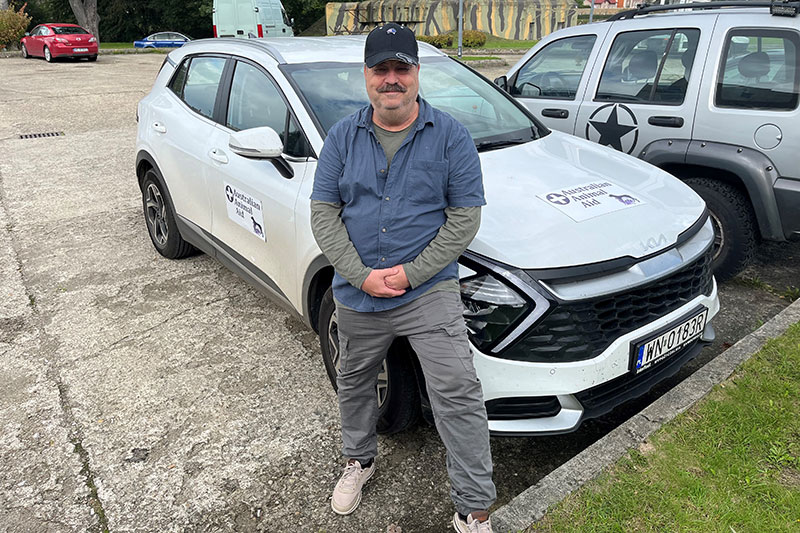 The Australian War Animal Memorial Organisation Inc. (AWAMO) is Australia's leading service animal charity. Its sub branch, Australian Animal Aid, decided to do something about the crisis in Ukraine.
Several months ago, AWAMO approached PETstock for help in shipping more than $300,000 in essential supplies to animals impacted by the war.
To ensure the aid was directed where it was needed most, AWAMO consulted the Ukrainian Embassy and Dr Lachlan Campbell, a Queensland veterinarian who previously worked in Ukraine. Based on their advice, AWAMO partnered with Ukrainian Pet Association Worldwide (UPAW) – which coordinates and delivers aid across Ukraine – and Nowzad, a registered charity famous for its work in Afghanistan.
AWAMO learned that animals are starving and dying in farms and zoos across Ukraine. To help them, AWAMO will also purchase fresh fodder and other food. Funds will be used to transport aid directly to the animals.
Accompanied by AWAMO Vice President Peter Kotzur – an ex-Toowoomba Council Animal Ranger who served with me in the ADF – I then travelled to Ukraine to oversee the distribution of emergency relief to local charities.
THE SITUATION ON THE GROUND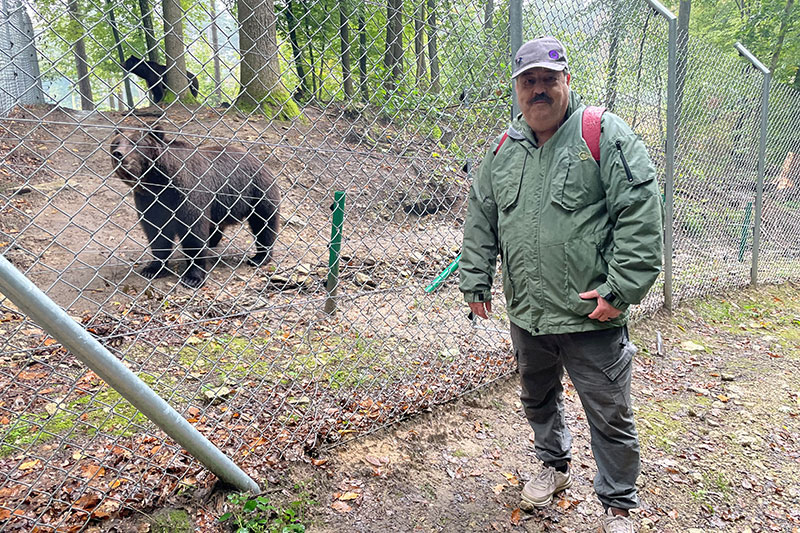 Nigel Allsopp at BEAR SANCTUARY Domazhyr, which recently rescued another five bears due to the shelling of their zoo. AWAMO donated a fridge to store food for the bears.
Basic, much needed supplies are running out across Ukraine, impacting the distribution and administration efforts of many animal shelters.
Shelters also face a common dilemma: by removing animals from conflict zones, there's little chance of finding their owners once they return.
In addition, abandoned animals perpetuate stray populations and are vulnerable to outbreaks of diseases. And once the conflict has ended, animals who were once healthy are likely to have post-traumatic stress disorder (PTSD) or physical ailments that decrease their likelihood of adoption.
Sadly, many shelter workers I interviewed claimed Russian troops seemed to have gone out of their way to shoot any dogs and cats that came within their rifle range, in an apparent attempt to demoralise the locals.
A REFUGE FOR DOGS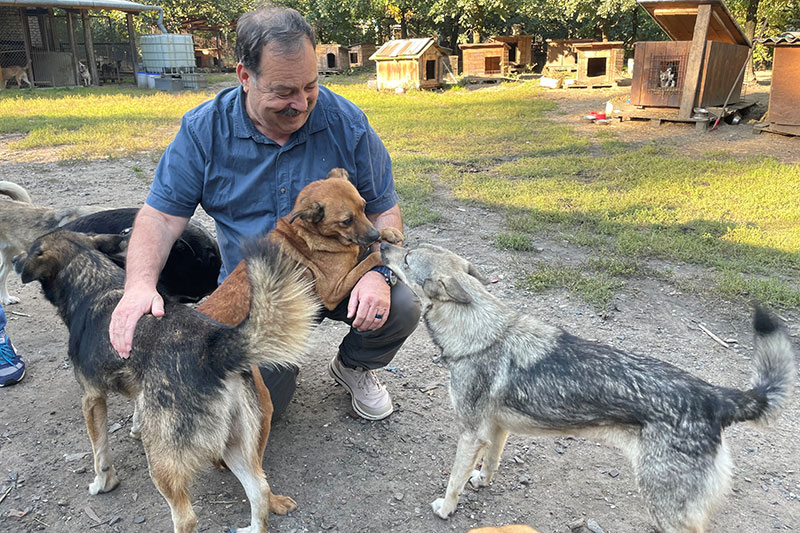 The amazing UPAW team picked us up from Poland and drove us around for most of the trip.
One of the first places we visited, some 40km out of Lviv, was a dog sanctuary – a place of relative safety for many dogs transported from the frontlines. Just one of many that need help, this shelter was built for around 50 dogs; alas, it now has around 1,800.
While doing an amazing job, the staff – all volunteers – are overwhelmed. The sanctuary is awash with mud; many of the dogs remain dirty, but they have help and food.
As I entered the compound I was swamped by dogs, all trying their best to say, 'Pick me; take me home'. It's been a while since I had a tear in my eye.
Winter is approaching in Ukraine. So, on top of food and veterinary assistance, the sanctuary needs better shelter, food storage and preparation areas. AWAMO's shipment includes winter coats for dogs and horses, plus dog bowls and collars, that will help in this area.
LIMPOPO ZOO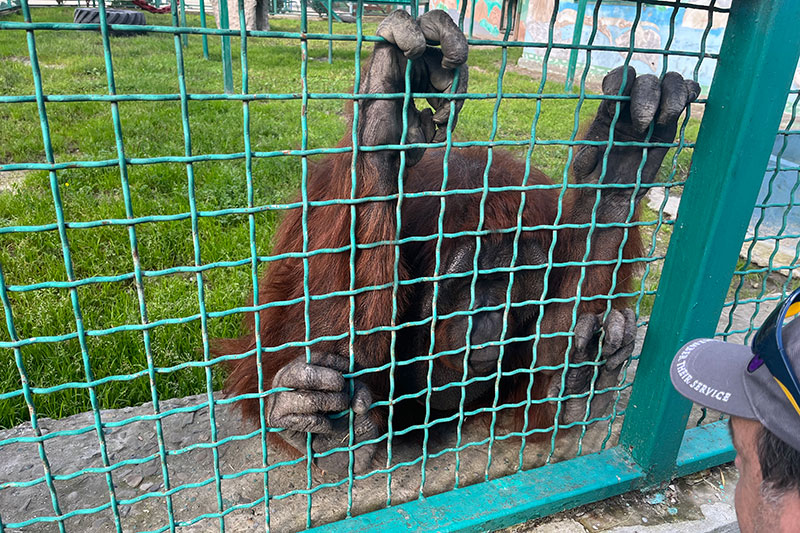 We also travelled to Limpopo Zoo, which has taken in many animals from zoos closer to the front lines – so many that it's now Ukraine's largest wild cat zoo, with some 80 lions, tigers, jaguars, and smaller cats.
Very nervous of loud noises, some of the animals show signs of PTSD.
With no visiting public and thus no income, the zoo spends all its reserve money on feeding the animals.
This zoo urgently needs a generator, so they have sent AWAMO a wish list for a power station or 7-10kW electric generator to cope with the war's many power shutdowns.
We also supplied the zoo with a behavioural enrichment program, which I developed to help the animals' physical and psychological welfare. AWAMO will also provide behavioural enrichment toys for this purpose.
FLEET OF ANGELS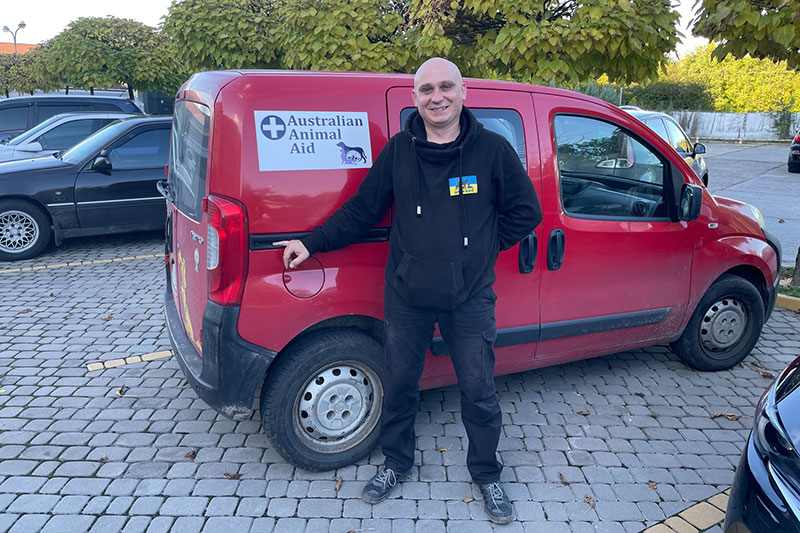 Nozwad vet and driver Dr Vol Dzhuryk. Volunteer charity workers risk their lives taking food from transport hubs to animals in need.
Many of Ukraine's 100,000-plus horses are caught up in the war with no shelter, care, or chance to flee and seek safety. Horse owners, handlers and breeders are in desperate conditions. They're forced to find sparse feed in war zones, comfort animals during deadly raids, and evacuate between attacks.
Having money for urgent needs can be the difference between life and death. AWAMO has therefore donated funding to Fleet of Angels – an award-winning, US-based charity that's helping Ukrainian horses in crisis.
FRONTLINE AID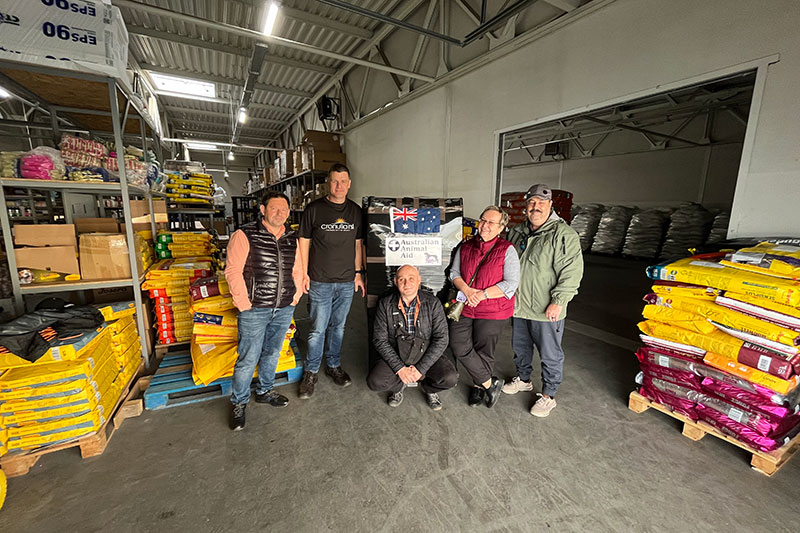 AWAMO also visited Nozwad's warehouse in Lviv, run by an amazing lady and her son – both veterinarians – and a small team.
Each day, when requests for assistance come in, this warehouse transports aid to the front lines. Local volunteers then collect the food, transfer it to smaller cars to avoid drawing attention, then distribute it on the streets.
One of Nozwad's first requests was for cat food, which its Kyiv branch had run out of. AWAMO purchased €1,000 worth that day. The food was loaded before our eyes and sent immediately to Kyiv.
MASCOTS AT THE FRONT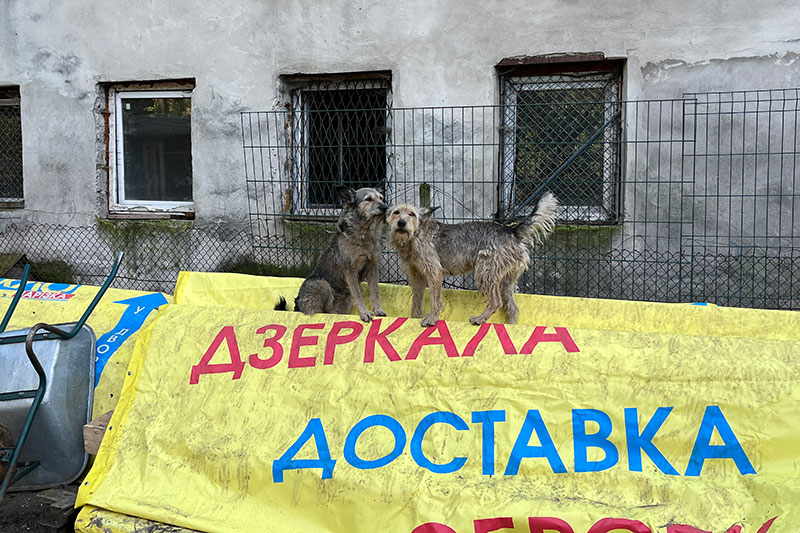 Many dogs and cats were abandoned by families forced to leave their homes. These pets would probably have died from starvation, if not for the kindness of the local soldiers who provide food, care and shelter.
In exchange, dogs offer huge support in battle, working like an alarm when they sense a threat. Cats are also a great help, fighting the spread of diseases by hunting rodents. Both provide an enormous morale boost to the war-weary soldiers.
Often these animals have no hope of finding their families again. But many of the soldiers are willing to adopt their four-legged friends once the conflict is over.
AWAMO donated several camouflage leads, collars and harnesses for Ukrainian service dogs.
WHAT'S NEXT
I'd like to acknowledge Australians' generosity – of spirit and direct fiscal aid – towards the people and animals of Ukraine.
Based on consultations with Ukrainian charities and officials, helping to fund improvements for animal shelters is a very practical way for Australians to assist. However, the biggest priority is to establish a mobile clinic to desex dogs and cats, to minimise breeding and further food shortages.
So, AWAMO is once again raising funds to help UPAW establish a free treatment clinic.
Find out more at awamo.org.au.
Want to stay informed? Subscribe today and get the latest news, services, events and more direct to your email inbox.