Bravery Trust partnership benefits veterans
31 August 2023
Queensland veterans are being supported under a new partnership providing tailored financial support.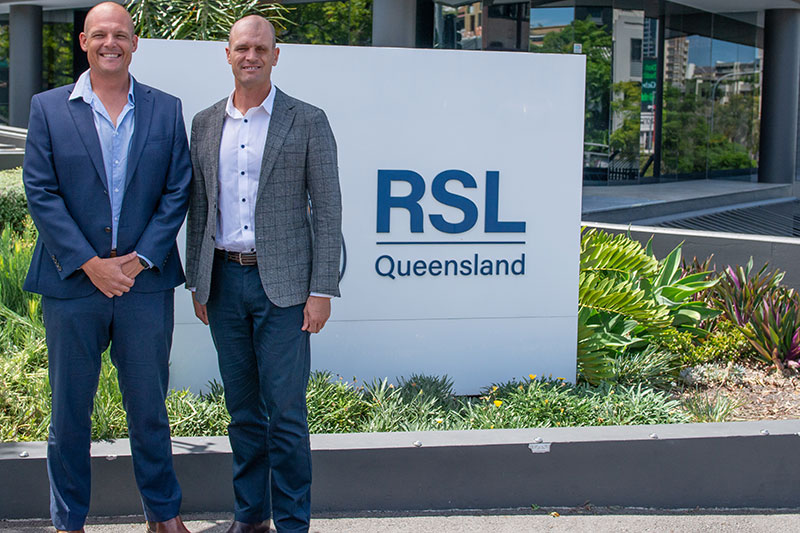 RSL Queensland Deputy CEO Veteran Services Troy Watson and Bravery Trust Chair Garth Callender
Revolutionising the veteran landscape, RSL Queensland has joined forces with Bravery Trust to see expert financial counselling delivered through RSL Queensland's client network. Bravery Trust is a national charity that provides veteran-specific financial counselling across Australia, coupled with welfare and education.
Bravery Trust Chair Garth Callender said working with RSL Queensland assisted with "getting ahead of the problem."
"Our team has an in-depth understanding of the ADF, and the unique challenges veterans can face. We recognise that financial circumstances can be complex, especially for those who have limited earning capacity due to illness or injury or are facing financial hardship," Mr Callender said.
"Finances can be a taboo subject – so we are pleased to work alongside RSL Queensland to normalise conversations about finance and budget challenges.
"Our financial counsellors work closely alongside veterans and their families to provide timely support and guidance, including advocating on behalf of veterans to a variety of creditors including landlords, banks, financial agencies and essential service companies."
RSL Queensland Deputy CEO Veteran Services Troy Watson said working in partnership with organisations like Bravery Trust meant more veterans and their families could gain critical financial knowledge.
"The partnership with Bravery Trust ensures veterans and their families are not only given immediate aid, but also provided with the education and financial literacy tools to move towards financial independence in the longer-term," Mr Watson said.
"This partnership allows us to work longer-term with veterans and their families to identify the best pathway towards financial independence, with a strong emphasis on supporting those who are on the cusp or in the midst of profound hardship."
"Through this partnership, we are able to amplify the impact of our existing services for those in times of critical need and equip them with the tools for financial independence."
Want to stay informed? Subscribe today and get the latest news, services, events and more direct to your email inbox.